I never sleep well when I'm pregnant. That's my excuse but it really doesn't excuse anything. You see, there was this week toward the end of my second pregnancy that was the worst of all of those sleepless last weeks. It had been raining for a solid week and the bad weather coupled with my exhaustion made me cranky. And my poor husband took the brunt of it.
Whenever it rains, a mysterious leak slowly floods a patch of carpet in our home. I fixated on the fact that he had not addressed this issue before the week of rain. After he had worked a couple of stressful 12-hour days in a row while battling chronic stomach pain, he came home to cranky ol' me griping about the wet carpet. I spoke harsh words and I could tell they cut deeply. But apathetically, I went back to getting dinner on the table.
He immediately got down on the floor and blotted up the water with towels. And he cried. I made the man I love cry, and, in my bitterness, I pretended not to notice or care.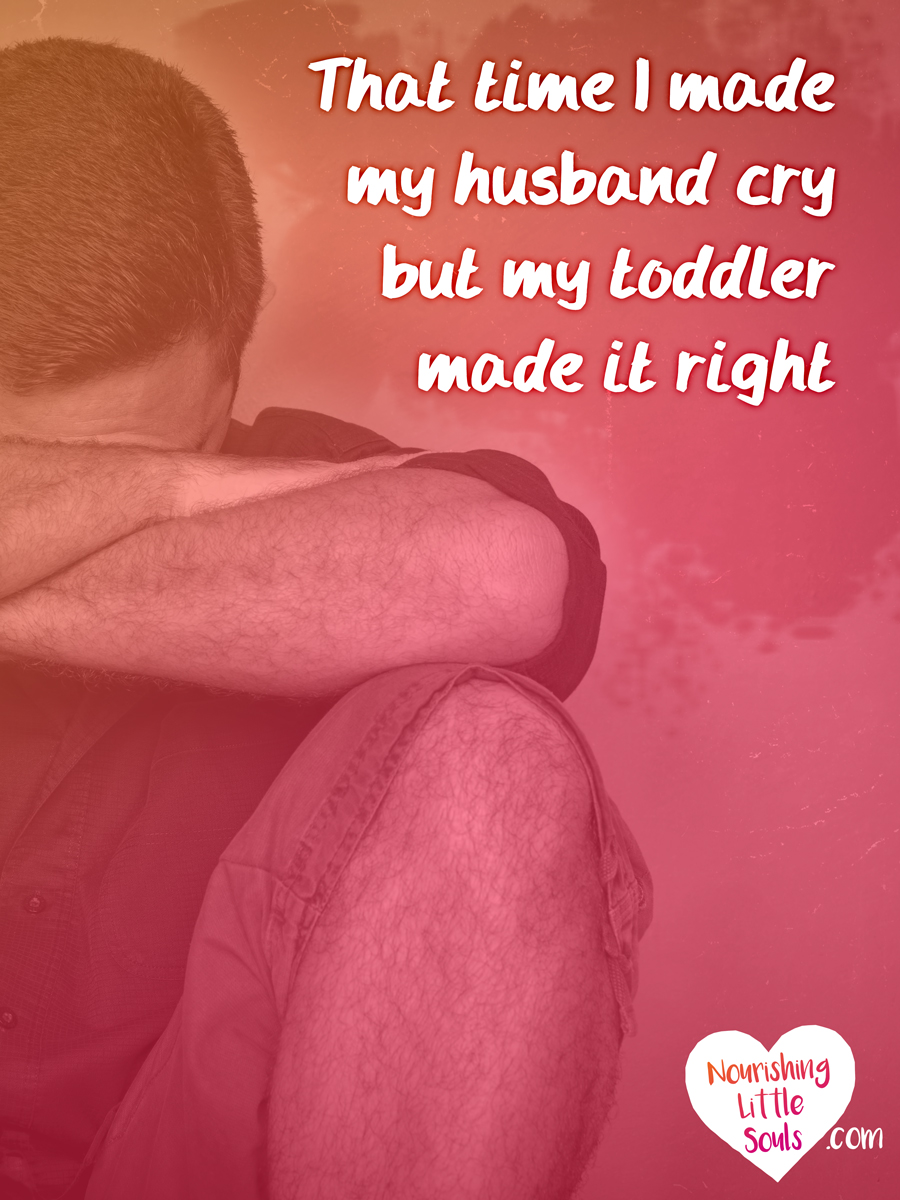 But then something beautiful happened: our son noticed.
He walked over, put a hand on his dad's shoulder, looked him in the eyes and said, "What wrong, Daddy? You okay, Daddy? You need help, Daddy? I help wif da towels." He grabbed a towel and got down on his knees. They hugged. My heart melted.
And I was so thankful for our little guy showing love when I should've been, thankful that there was one more member of our family to greet Daddy in a much better way than I had. When my husband needed encouragement, I fell short; I brought my complaints. But our son didn't; he had compassion. The bitterness and pride in my heart chipped away and all I had left was gratitude for these really great guys in my life.
We can learn so much from our little ones. Sometimes we just have to get past our unmet expectations and be the kind, compassionate and loving people we want our children to be. And when we fall short, sometimes our kiddos fill in the cracks for us–and that's a really beautiful, humbling, and gracious thing to behold.
---
My husband is a pretty great guy. He taught me something every mom should know: How your husband really feels about your Mom-body