Dear Parents in Waiting,
It's not fair.
Nothing about this mess of a life is fair. And sometimes it's downright cruel.
I don't know why the pregnancy tests keep turning up negative. I don't know why miscarriages have to happen. I don't know why you lost your precious baby. I don't know why adoptions have to be so complicated, so expensive, so lengthy, so retractable.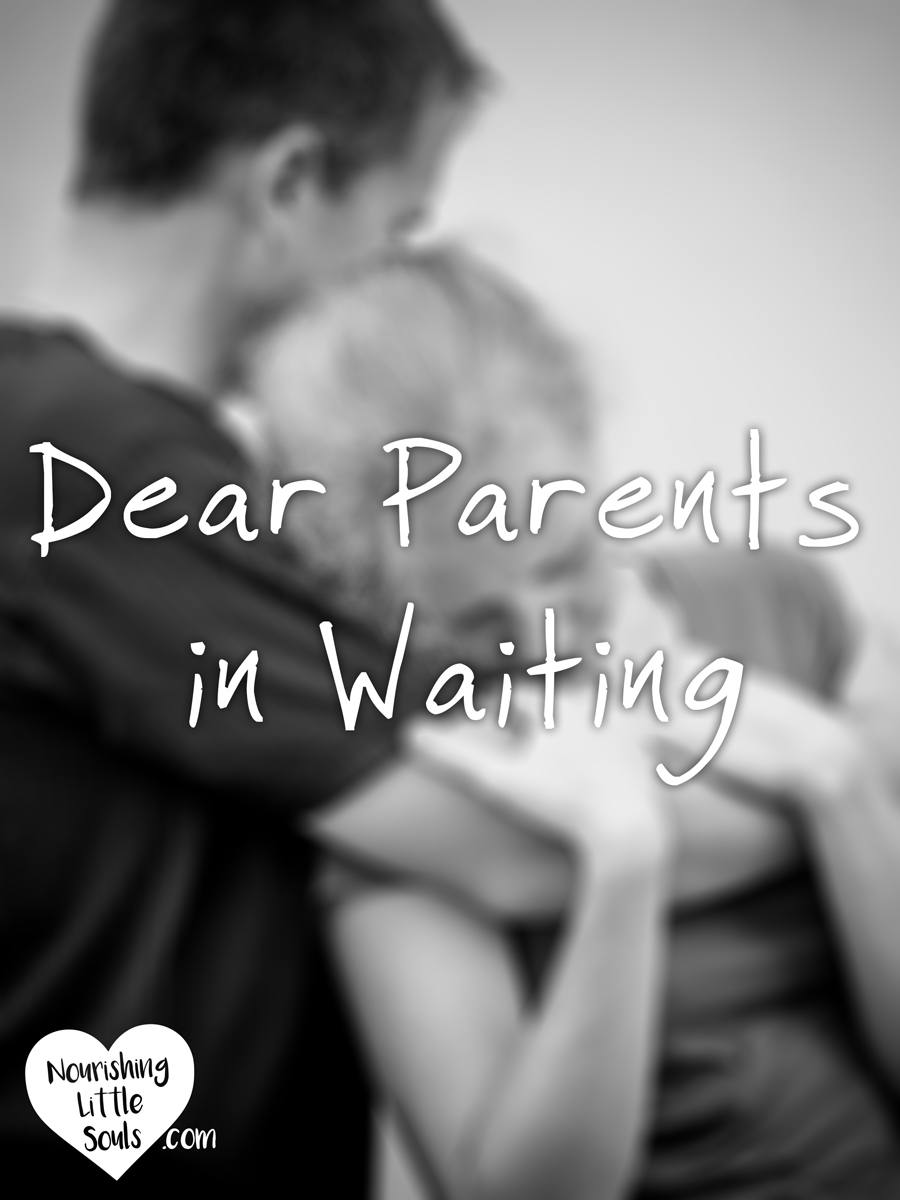 Your hearts are wide open and willing to love the littlest ones, the least of these. Your hearts are filled to the brim with hope and love for a soul you haven't even met yet. And oh how you yearn.
Your hearts have been broken, battered, bruised. You feel the sharp, ugly, achey pains of grief-soaked loss.
But you put your hearts back out there. Because you have to. Because there's still love in there and it belongs to someone special.
You put on your brave face and you go to those baby showers and you like that pregnancy announcement on Facebook and you visit that new mom at the hospital. But it scrapes all those wounds afresh and you're just doing all you can not to wince from the pain.
The longing for a child–for a little soul to nourish with your whole life–it's a pain so real, so deep, so valid, so pure.
But dear ones, do not lose hope. Do not let the hard things in this world win the battle for your wide open heart. Keep loving. Keep praying. Keep fighting for that little soul you have always been destined to love. He's out there. She's coming. Be faithful. Press on. And know that you have so many people who feel what you feel and desire what you desire. It's real, and we're together in this. Anyone as loving and committed as you are deserves to be called a parent. So that's what you are, from here on out: a parent, and a really good one too.
My prayer for you right now as you read this is that your little one would be in your arms soon.  He will be blessed to have you as a mommy. She will be so wonderful because you are her daddy. Wait well. Love each other in the meantime. And know that it's okay to ache.
Weeping with you and praying for you,
Kate
The Lord is close to the brokenhearted and saves those who are crushed in spirit. Psalm 34:18