I think we've all been encouraged by brave moms who have gone before us to not be ashamed of the marks that have made us mommies. Stretch marks, flabby tummies, varicose veins, surgical scars, abs that have gone missing for YEARS–they're all just physical reminders of the sacrifice we make for our little ones EVERYDAY.
But do you ever wonder if your husband sees it the same way?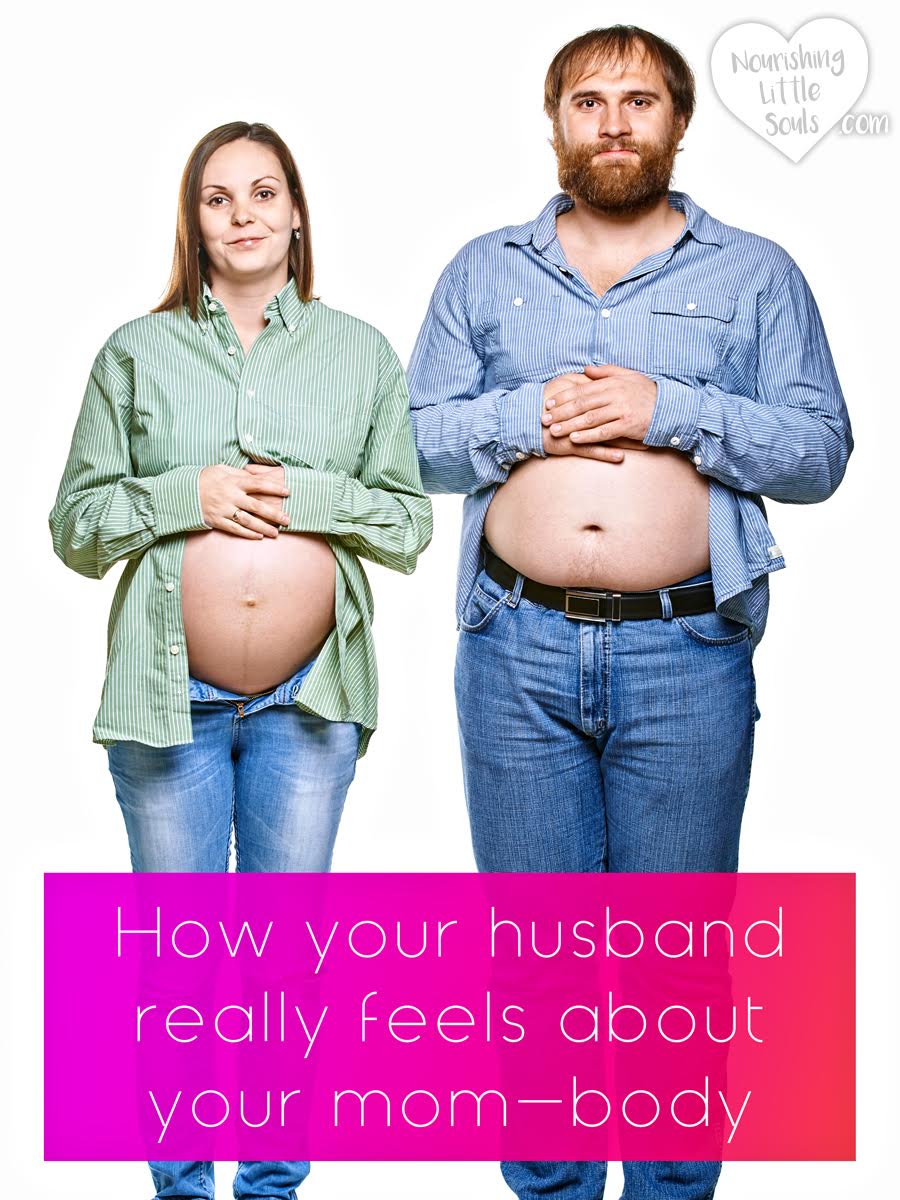 Several months into my second pregnancy, my husband needed to hire a new graphic designer for his budding business. I helped him review resumes. For every one male applicant, we probably got five female applicants. Graphic design is a female-dominated skill set, we learned.
He didn't particularly want to hire a woman (as we both agree that one-on-one companionship with someone of the opposite sex for extended periods of time isn't the best thing for a marriage.) Buuut the right person for the job was, indeed, a woman.
He saw her before I did. I sent half-funny, half-serious texts like: "How much does she weigh? She must weigh more than I do right now," and "I hope your eyes won't wander from my pregnant planet body to her slender, attractive body." And probably a few more that maybe made him chuckle or maybe unveiled a bit of my insecurity regarding my changing body in his eyes.
And you know what he said to me?
"There is no other woman's body in the world that could bring me the amount of JOY that yours already has."
And that did it for me. He didn't have to say anything more than that because I knew it was absolutely true. True for so many reasons that only he and I know.
So, dear sister, I can't speak for your husband, but I would be willing to bet that he would agree with my husband–that anything about your body that you feel might turn him away, it's actually a reminder to HIM about what your body has done to bring him JOY in ways that only the two of you know.
---
I married a pretty great guy. You should read about when My Husband Live-Tweeted My Birth!