If you opened this post, then I'm guessing you've had a C-section. And since you're trying for a VBAC, I'd also bet that you didn't want to have that C-section. Maybe you cried. Maybe it felt like failure. Maybe you were terrified. Maybe you felt ashamed. Maybe you were fine with it but the recovery was a nightmare.
As moms, we do what we have to do for our babies. We often do what we don't want to do for our babies. I don't know why you needed a C-section, but I'll bet that your health care provider saw it as the safest way for your baby to get here, and as a mom who will spend her whole life sacrificing for her baby's wellbeing–you consented. Good for you.
But now we're onto a new pregnancy with a clean slate and a chance for a vaginal birth, the birth you always wanted. We all have our motivations, mine was that I would like to have several more children and as most of us know, once you have two C-sections, there are too many risks to attempt a vaginal birth again. C-sections for life.
I had a really amazing second birth. A successful VBAC, free from all interventions. That doesn't make me an expert, but I am happy to share some tips if you're going to give a VBAC a try.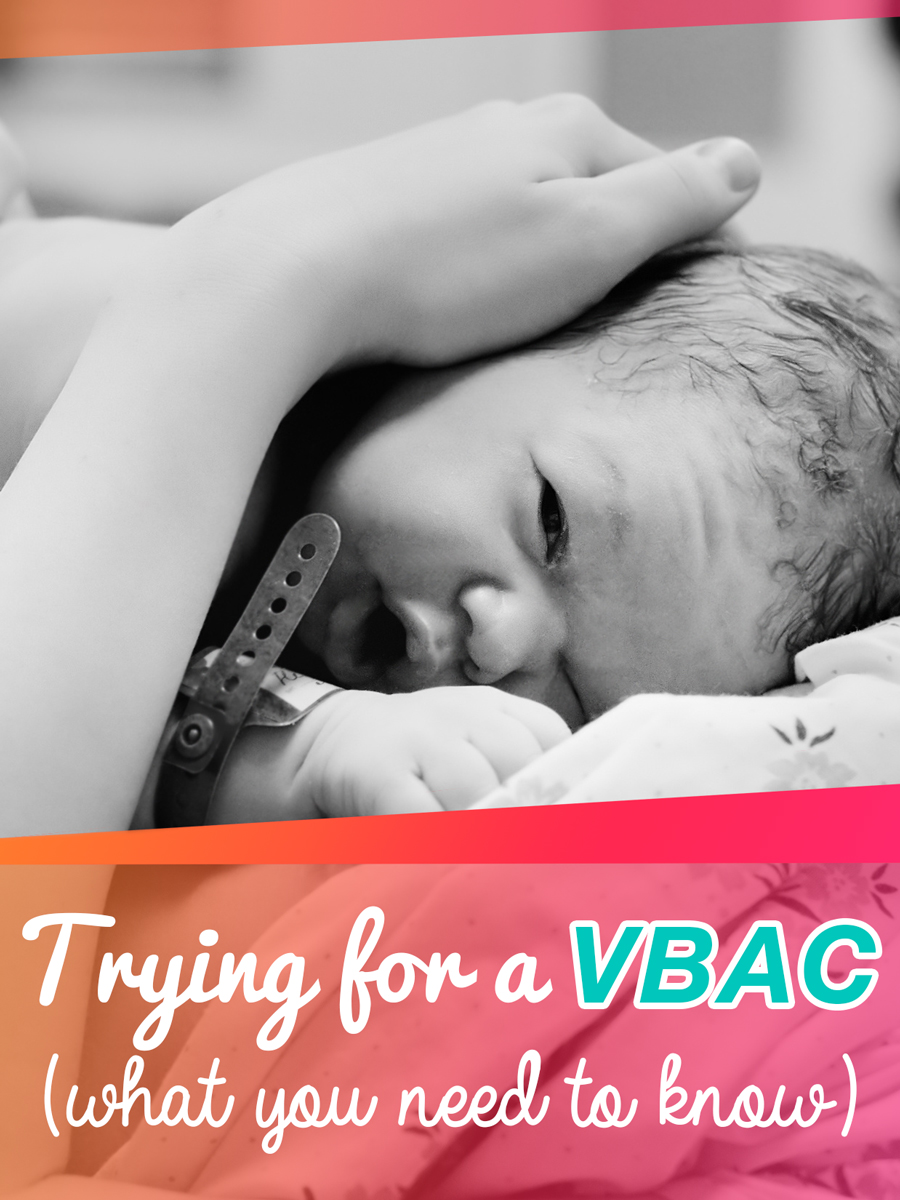 (this post contains affiliate links)
1.) It's all about your provider.
First of all, you do not have to go to the same doctor or midwife that you had for your C-section. Maybe you didn't like your birth experience with them. Or maybe you did like it, but he or she is not willing to do VBAC's. There are too many doctors and midwives in the world who will do VBAC's for you to not look elsewhere. This is the rest of your childbearing years we're looking at here, ladies. Look around.
Before I even got pregnant for the second time, I scheduled a checkup with an OB for the primary purpose of asking a thousand VBAC-related questions. I had done my research online, I had taken recommendations from friends, and the OB I was going to see seemed to have a good reputation for VBAC's. Here are some of the questions I asked:
How do you feel about VBAC's?
What is your C-section rate?
About how many VBAC's have you delivered?
What would a VBAC look like under your care?
Should this birth end in a C-section, would you be willing to continue
to deliver any future babies of mine via C-section?
If you have a provider who is on your side, fighting for the same outcome as you, then you can go forward. And that way, if it does come down to a C-section, you can trust him or her enough to make that call.
2.) Know that this birth will be a whole new ball game.
It's kind of like you're having a baby for the first time again, in that there is a lot of uncharted territory. So just because this isn't your first birth, don't be a know-it-all. Do your best to prepare. Take a birthing class. Listen to birth stories. Do your research.  Ask questions. Read books (my husband and I loved The Birth Partner by Penny Simkin).
3.) Your recovery could be better, but it might be worse.
You know how you got that cut up there in a nice clean place? Well now imagine getting tears down there with stitches and swelling and the frequent need to go to the bathroom. It's awful. You will be afraid to poop. Hemorrhoids, friends–they are the worst. The frequent cleaning, the Tucks pads, the Sitz bath (I highly recommend these Motherlove bath herbs, by the way)–you can't even sit up straight for the first week (hello side-lying breastfeeding!) I believe that my tearing was worse than most women's tearing (it was both external and internal thanks to my 9 pound baby) but still, y'all, don't assume that you'll have it easy.
4.) Keep a loose grip on your birth plans.
I probably don't even need to tell you this because you've already had a birth go haywire. And you know that you still got a beautiful, breathing baby out of it, right? You understand how birth is an unexplainable mix of the worst and best day of your life.
So you have to hold your birth plans loosely. Because it could all get crazy in a minute and end in a C-section all over again. But this time, I hope that there won't be tears. I hope that you won't be afraid. I hope you'll remember all of the joy that came from your first C-section. I hope that you'll believe that it was not your failure, but a sacrifice you made for your baby's sake.
5.) Realize that giving birth is hard no matter what.
Remember how I said that my VBAC went swimmingly? Well, it did, it was a birth plan come true, but it was still so painful. The recovery was awful. I've had it both ways and my conclusion is that there is literally no easy way out of birth. So just do your absolute best, sister, and have peace with the outcome. Because birth is just the first of many days. It won't define you or your baby no matter how it goes.
Wishing you a beautiful birth!
---
Would you add anything to this list? I'd love to hear about your C-section/VBAC hopes or experiences! Please share!