I'm new to living in a neighborhood, but I've already learned that meeting your neighbors is harder than it seems. Developing a relationship with them is even harder–or rather, it takes intentional effort and time.
I long to be a generous and hospitable neighbor whose home is a reflection of the redeeming work Christ has done in my family. But I tend to be stingy with my precious family time, wanting to keep our home a haven for just us. Hospitality tends to feel more stressful than life-giving to me, and I so deeply want to change that.
I know that this is an area I'll grow in, and I'm really fortunate to have encouraging friends in my life who do hospitality so well–the life-giving kind. My friend Laura is one of those people, and she told me about a neighborhood Easter egg hunt she's hosting this year. She was happy to pass her ideas and printables along to anyone else who wants to try it!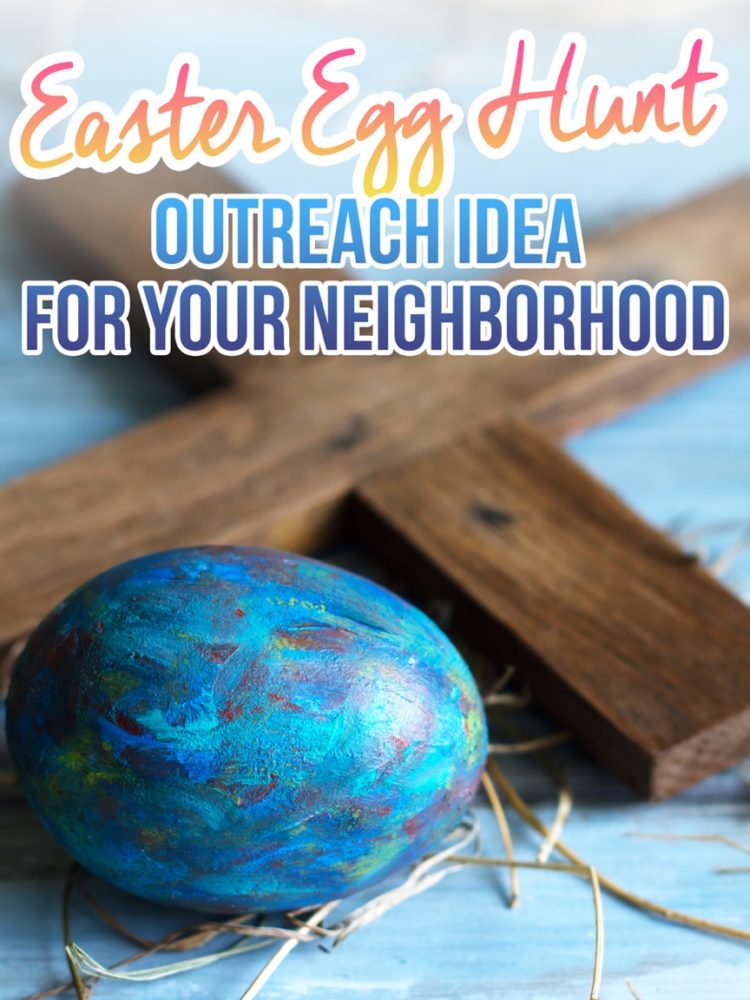 (This post contains affiliate links that cost you nothing extra to use but instead help support the family behind this blog.)
Laura wanted to find a way to share the whole gospel message with her neighbors this Easter, so she is planning to host an Easter egg hunt on her cul-de-sac, block party style. She'll serve quiche and hot cross buns in hopes that even neighbors without kids will feel welcomed to come.
But here's where this Easter egg hunt gets a little different from the rest–aside from treat and treasure filled eggs (which she'll certainly have!) she and her kids came up with ten important parts of the gospel with coordinating symbols to convey those ideas. They made tiny booklets with those ten points. And in each egg, they are placing one page from the booklet along with the symbol that goes with it.
They'll place their eggs around their cul-de-sac with plenty of opportunities for each kid to collect all ten, and give a "grand prize" to everyone who finds them all. But for anyone who doesn't find all ten eggs/pages, Laura will have extra pages for the kids to complete their booklets. ;)
Here are the gospel portions with coordinating symbols:
| | |
| --- | --- |
| Gospel Portion | Egg Item |
| God is perfect and good | finger light  |
| God made us and gave us good things to enjoy | fruit snacks  |
| Man has sinned against God and disobeyed Him | snake |
| Our disobedience brought death into the world | skull ring |
| God became a man, Jesus | baby figurine |
| Jesus taught us about God | mini notebook |
| We hated Jesus and put him to death on a cross | cross necklace |
| But Jesus came to life again; He was resurrected!  That is what Easter is about. | hollow chocolate |
| God accepted Jesus' death in our place and now gives us His goodness and life | butterfly tattoo |
| We must ask God to forgive our disobedience and trust in Jesus to save us | smiley yo-yo  |
1.) First, we are using light to represent God. Though nothing can fully represent God, even the Bible uses light as a metaphor for God. This is a finger light.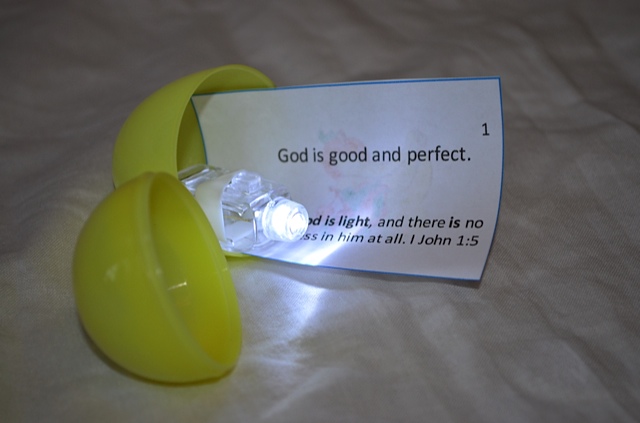 2.) The fruit snacks are a reference to the Garden of Eden, where we had many good things to enjoy from God.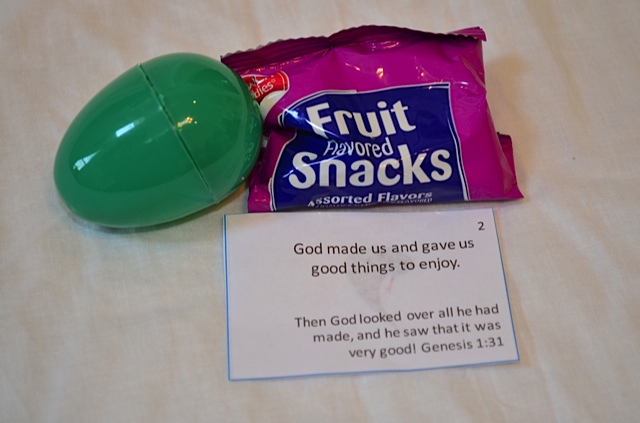 3.) The snake toy represents Satan tempting us in the garden. These are curled up into the egg, and may jump out at the kids when they open them up.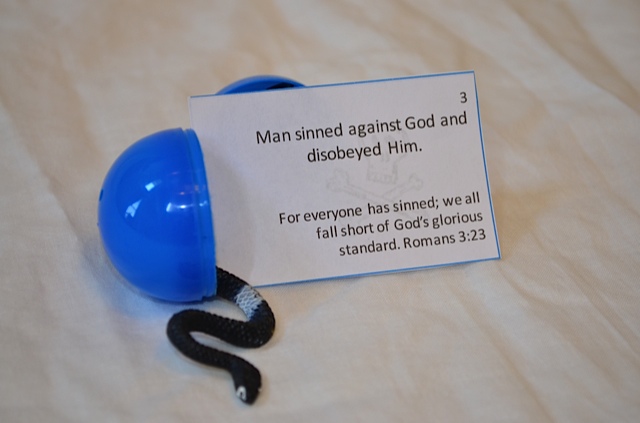 4.) The skull rings represent death brought to us through sin.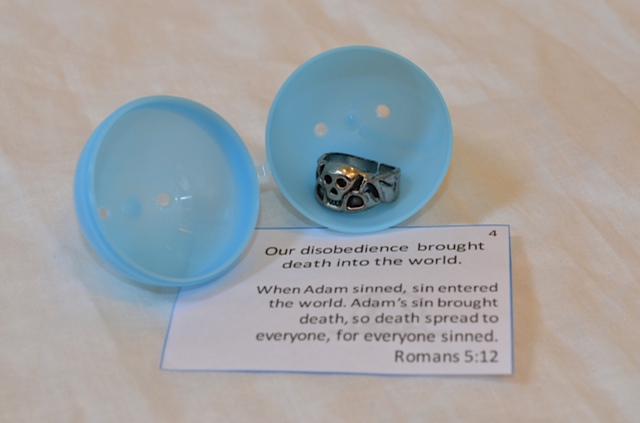 5.) The baby represents Jesus, God's son, becoming a man.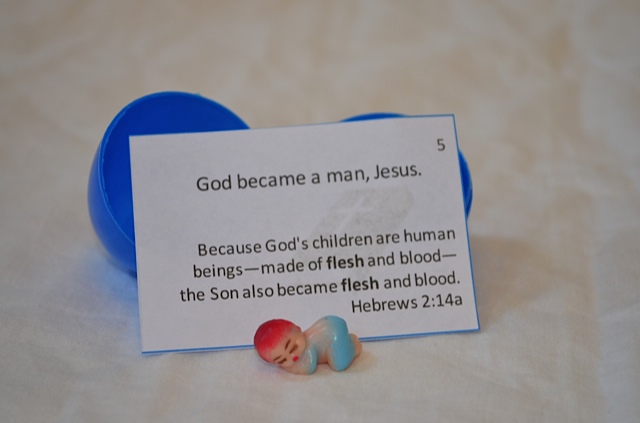 6.) The notebook relates to learning. Jesus taught us about God and revealed more about God to us.
7.) The cross necklace represents the crucifixion.
8.) This is a hollow chocolate bunny. I looked for hollow eggs at the store, but couldn't find them. (Here's a link to some from Amazon, though!) Either way, the hollow chocolates represent the empty tomb.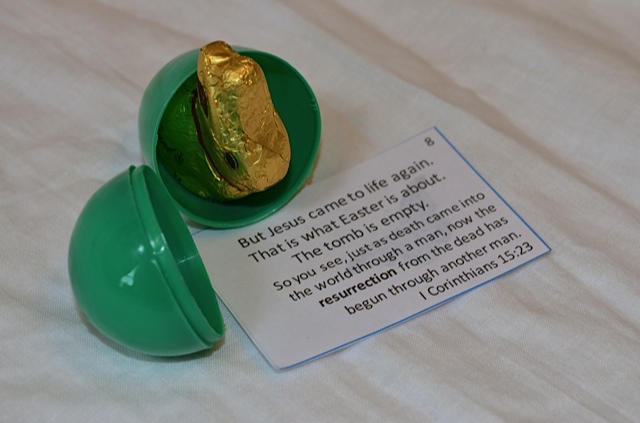 10.) This happy yo-yo actually needs a larger egg to hold it (Ha!)  Here are some mini smiley yo-yo's that *I think* will fit into a regular egg. It represents the joy of forgiveness in Jesus and the joy of eternal life.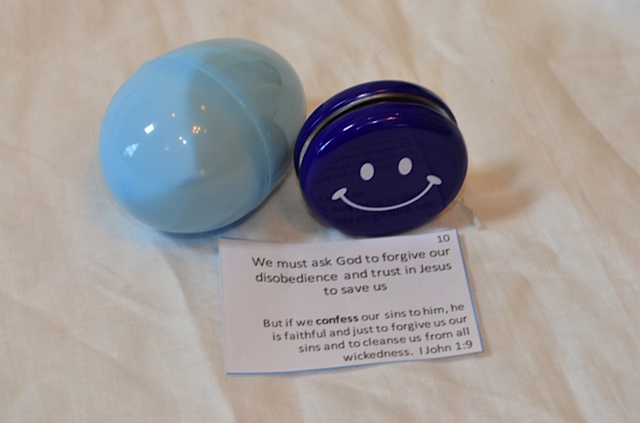 Don't feel like you could pull off a block party in your 'hood? Another idea is to fill a basket with the eggs and give one to each of your neighbors and friends. With either idea, be sure to include some extra eggs with candy and prizes to make it even more fun!
Here is Laura's basket full of eggs, with a book all stapled together. The printables she made (below) include this cover page.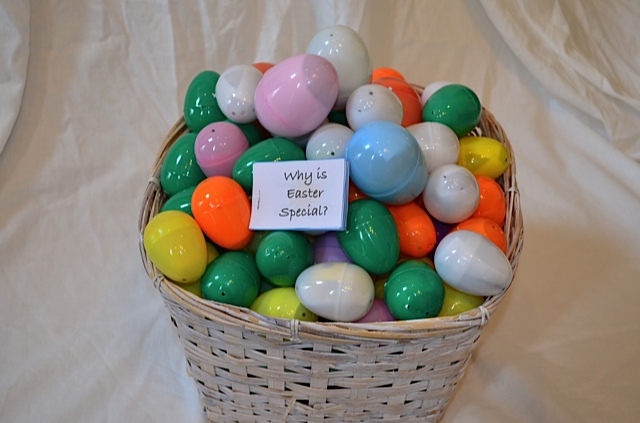 The printables are designed to print one page on the front, and the other on the back. The pictures on the back do not match the item that goes into the eggs. They match the verse that goes on the facing page when you assemble the books. That can be a little confusing the kids helping assemble the books. Laura created them for you to use freely, so please feel free to print and share!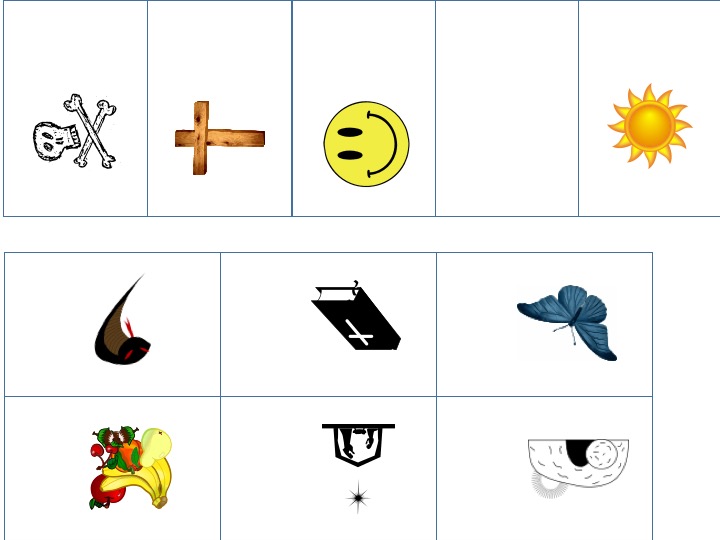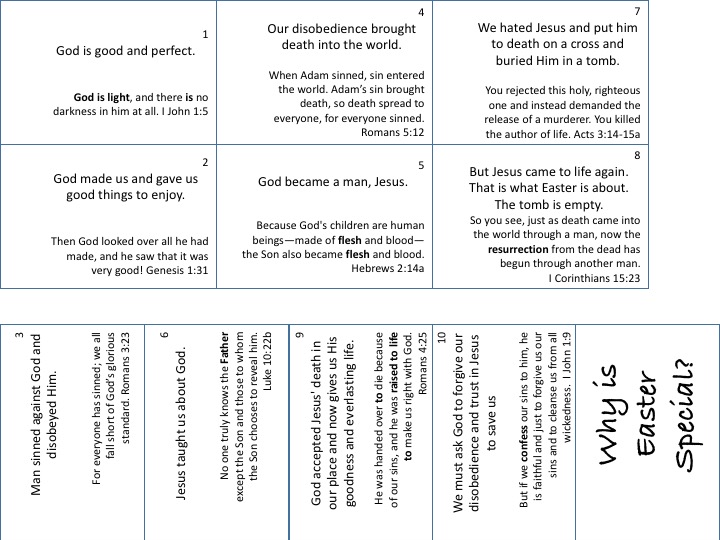 Laura and I both hope this project works well for your family and enables you to share the gospel in a very simple and fun way! If you do this or plan to do it, we would so love to hear about it! Happy Easter to all of you, may the reality of the resurrection fill your soul to the brim and affect every aspect of your life. <3