It's lonely.
You didn't realize how lonely adding a new family member could make you feel, but it does.
Sometime after the brand newness wears off–when husband goes back to work and helpful relatives go home and the church meals come to a halt–it's just you and your baby for hours and hours each day. Yes, she's adorable and you love being her mom, but she doesn't say much. And you're kind of starting to miss conversation. The kind you used to have all day long at the job you just left or with the friends you hardly see anymore or in whatever life you used to have.
And some days, you find yourself staring at the doorknob, dying for it to rotate and your husband to walk through and quench your thirst for adult interaction.
I've been there, New Mom. We've all been there.
Becoming a mom is such a beautiful experience–but people often don't see the loneliness that comes along for the ride. It's a life change that promises hard days. It gives you too much quiet time to look back at that life before this life.
But our generation of moms has such an advantage in working through the loneliness, because we have social media. It's not the only answer, but it is one answer, one help, one measure of grace.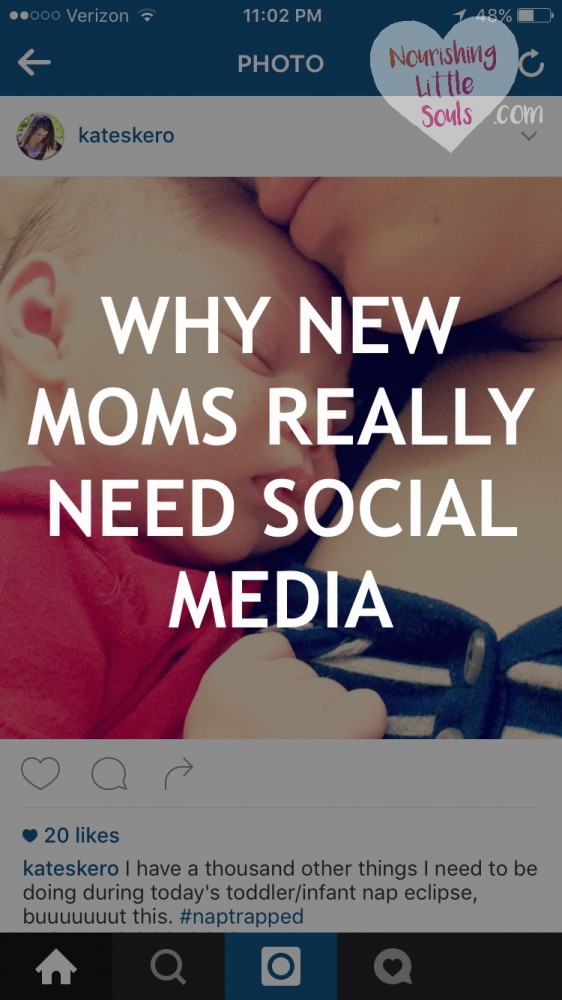 We often view social media as a bad habit, the monster that consumes time that could've otherwise been used productively. It disconnects us from real life. We aren't savoring motherhood if we scroll through Facebook while feeding baby. But I think we need to see how good social media is for new moms. Maybe it's something we can celebrate for a  minute and see all of the merit in.
Why? Because in those hours and hours a mom spends with her baby, there are little moments that nobody else sees, but now they can. Now, she can document that half smile and 15 of her friends and relatives can say YES, THAT IS CUTE. She can receive those occasional comments we don't even realize how much we long to hear: "You're doing a good job," or "He obviously loves his mommy so much," or "You are a wonderful mother." Words that can make a heavy day so much lighter.
Moms get to connect no matter what distance stands between them and their dearest friends and family. Relationships that we no longer have time to kindle in-person can be stoked via social media–and the warmth they give off is a blessing. The encouragement, the advice, the little tastes of life, the sharing of sweet moments, the camaraderie in the day-to-day struggles–that is the gift that social media gives to new moms and the people who love them. We need not feel guilty about how often we check in, how much we post, or how much we value it. You can still be a good mom, the very best mom for your baby even though you desire some interaction outside of the nursery.
So, if you're not a new mom, just bear with any new-mom-oversharing you come across. Like that fifth photo she posted today. Comment on her video of baby cooing. See beyond the humble brags. Reach out. Maybe even reach beyond social media and give her a call, send her a note, tell her you're coming over and you will be gravely offended if she cleans anything because of it. Remind her that her relationships didn't go out the window when the new baby came. You can't know how much she might need to hear that.
---
Are you a new(ish) mom? CHECK THIS OUT!
BABY BUNDLE GIVEAWAY
I've teamed up with some of my favorite parenting bloggers and baby brands to give you a chance to win a prize bundle worth over $350! Prizes include a range of products from baby's first shoes and cloth diaper to bottle sets and tons of feeding accessories.
To enter, simply follow instruction on the form below!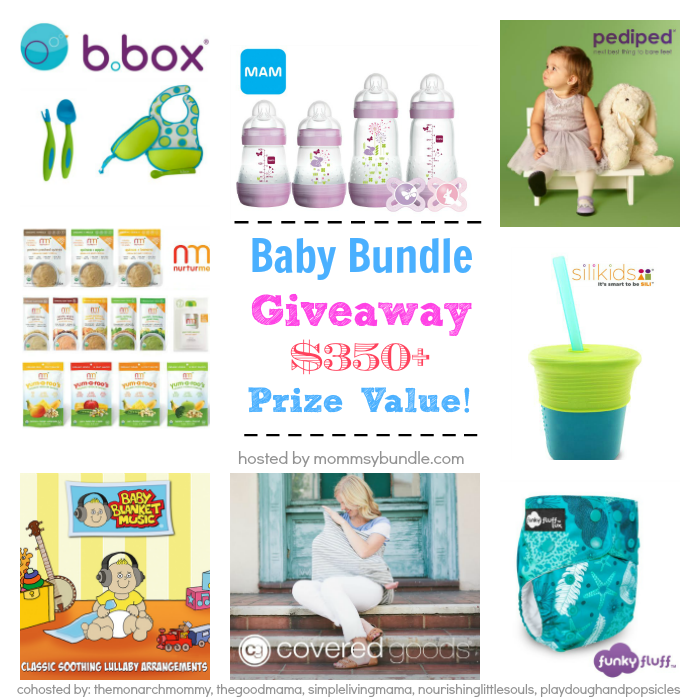 Thanks to our sponsors below:
b.box baby – Baby Blanket Music – Covered Goods – funky fluff – MAM Baby – NurturMe – pediped footwear – Silikids – Swaddle Designs
(Click the links to learn more about each brand and their array of products.)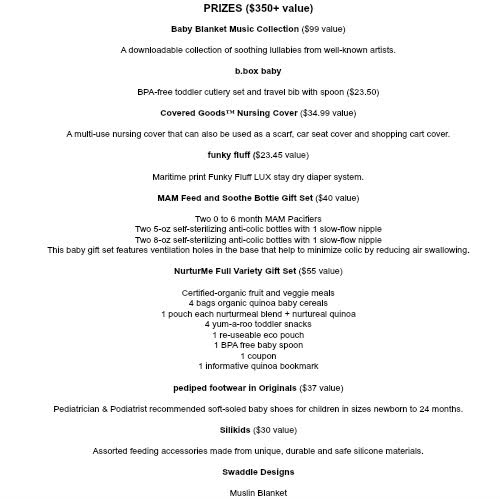 ***
Read more parenting-related posts to navigate this motherhood journey from our co-hosts:
themonarchmommy.com – thegoodmama.org – nourshinglittlesouls.com – simplelivingmama.com – simplelivingmama.com
*Giveaway ends 3/28; Open to US/Canada.