I have a threenager. He has every kind of emotion every single day. Like, today he got a little overzealous  with his craft time and colored on his bed sheets. Although I was not in the room to see it, I suspect that he knew what he did was wrong and regretted it, and then came out of his room yelling at me with a red face and tears streaming, "MOMMY, YOU CAN'T HAVE ANY DONUTS." Me —> what the what?
We always try to talk through the big emotions and identify what they are (frustration, fear, sadness, jealousy, embarrassment, etc.), where they came from, and how we can work together to find a solution.
(By the way, thanks, Inside Out, for sparking many conversations about emotions! <–affiliate link)
But when he's there at the height of a tantrum, there isn't much talking we can do. The yell-crying only amplifies over my words. He needs concrete ways for me to help him take a step back from his emotional cliff.
That always starts with getting him to breathe. This is a well-known tactic across the board, for every age. Take ten deep breaths and then see where you're at. But how how HOW do you get a toddler to understand what a deep breath even is? I've modeled the breathing I want him to do and it is difficult for him to mimic.
So we came up with a tangible trick to help him take those deep, calming breaths. It works well for us and I hope it will work for you, too! Are you ready for it?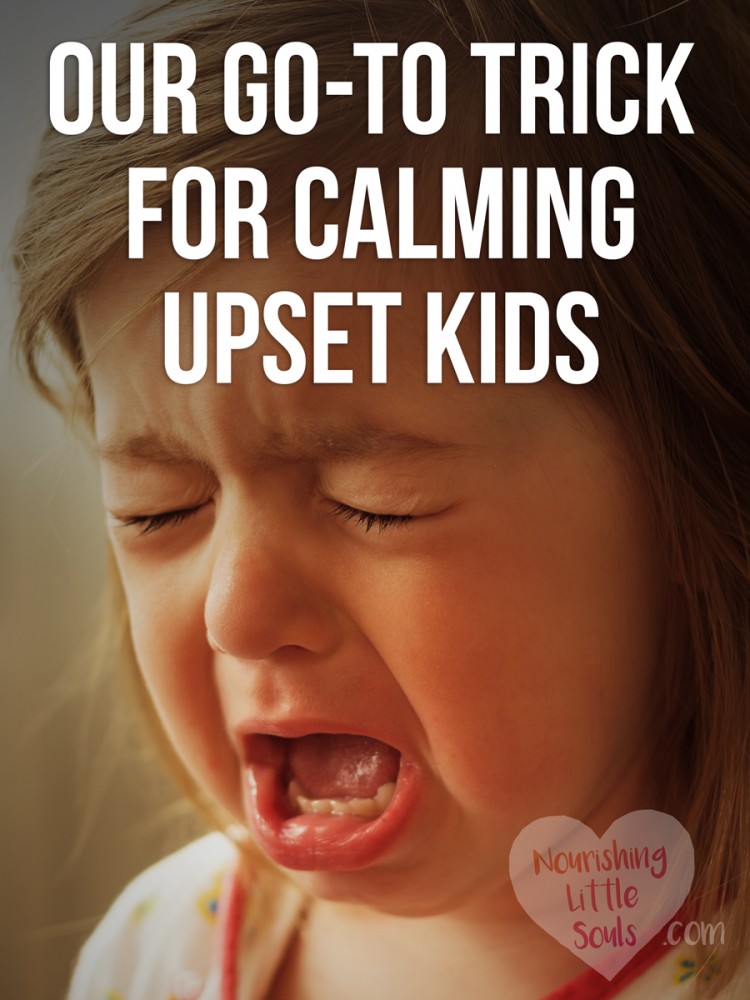 Here it is: I ask him to blow so much air at me that he can see my hair move.
"Blow my hair back!" I say, now that he's familiar with the concept.
We shoot for him to do it ten times, although he rarely needs to. The refocusing helps get his mind off of his sorrows and he's often laughing by the end of it! If his sense of humor hasn't kicked in, then the breathing does just what it's supposed to do: gets the crying to stop so that we can clearly communicate with each other about the problem. We're also making eye contact in the process, and that aids the connection and solution-finding.
So give this a shot the next time your little one is upset. I'd love to hear how it goes for you!
Stick around and stay awhile! If you appreciated this tip, I think you might also like: