I wasn't supposed to see it.
But it was one of those moments that filled my mom heart to the brim.
It's been exhausting–the transition from one to two kids. I've lived the past six months on newborn sleep but with a toddler start time to the day. Plus the ten weeks before that on third trimester sleep, but this moment paid me back tenfold for all that exhaustion.
It was a moment that told me, "Brace yourself because this is getting really GOOD."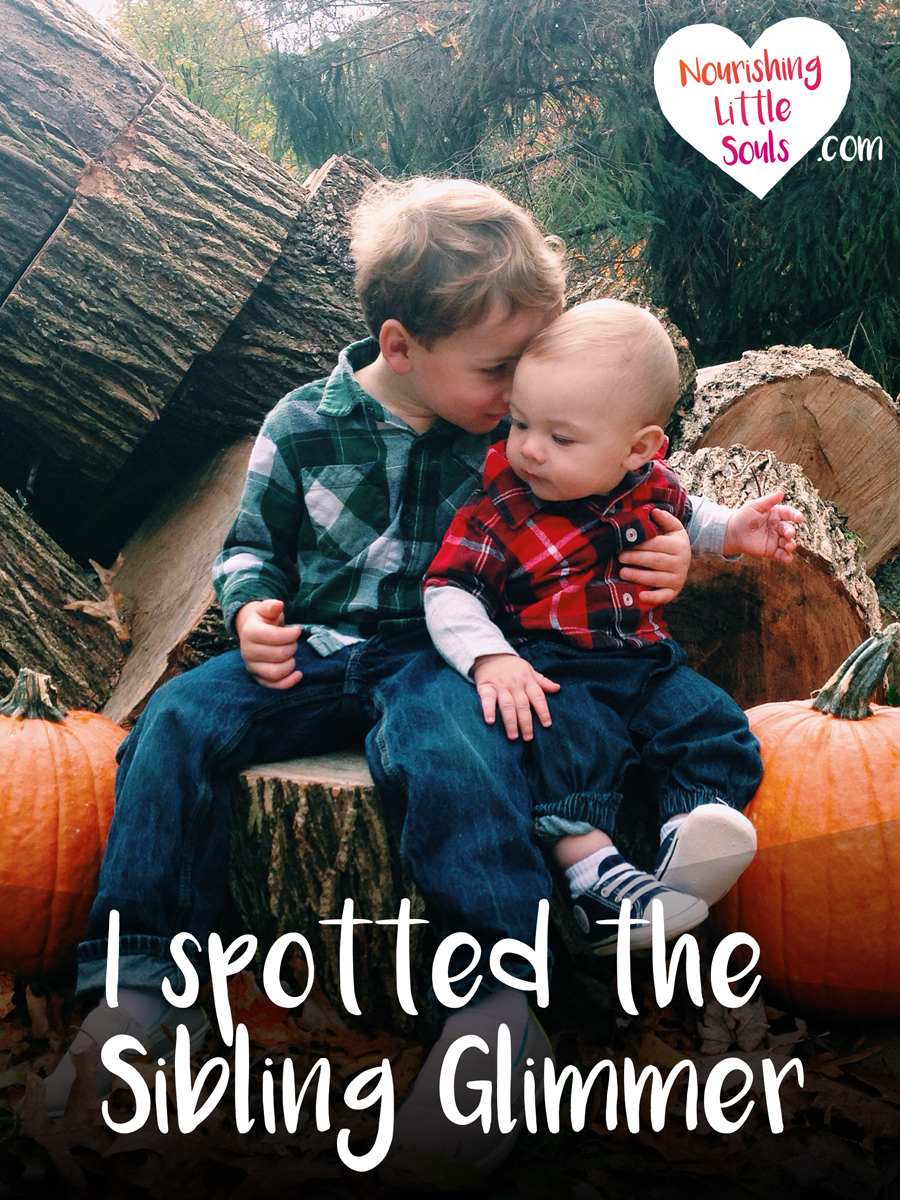 We were sitting in a row at church, my toddler to my left and my baby in my sister's arms three seats further down from him. I glanced over and saw my two-year-old hang his head down, slightly turned to the left and grinning at his baby brother down the row. And our baby's face lit up as he locked eyes with his big brother. He smiled his biggest smile and I spotted it. I spotted that Sibling Glimmer, and I sealed it into my memory forever.
Neither of them knew I saw it. It wasn't meant for me, although it made me smile bigger than either of them, I'm sure.
It made me think about how all of the work that has gone into these past six months was really showing fruit now. And it made me think of all of the Sibling Glimmers to come, what I'll see and what I won't see.
It made me excited for them to teach each other new things. It made me think of how they will help each other through struggles, create new things together, solve problems together, speak wisdom into each other's lives, love each other, foster a connection that only they'll truly know the depth of. It made me think of them standing behind one another on their wedding days. It made me think of the phone calls they'll have when they're not living under the same roof any longer.
And yes I know it won't be just that perfect. I know that for every Sibling Glimmer they share, there will have been five disagreements. I know there will be competition and jealousy and selfishness to work through–I know all of this.
But I know it's all possible because I've shared that very same Sibling Glimmer with my big brothers. I look at my boys and I think of my big brother sitting by kindergartener me on the bus even though it was so uncool. I think about him helping me with the hard math problems. I think about him dropping me off at middle school even though it would make him late to high school. I think about my even bigger brother and how he left notes in my school work for me to find all week each time he came home from college. I think about how we called each other during every commercial break of Joe Millionaire (LOL.) I think about how I got to give a speech at his wedding. I think about how we both became parents within two years of each other and it's been the neatest thing to relate with one another about it.
I think about how my two brothers and I have shared experiences and conversations that our parents may never know about, decades of Sibling Glimmers that I wouldn't trade for the world. And only we'll know the depth of the friendship we share.
So it sure was good to see that Sibling Glimmer today. And for whatever Sibling Glimmers there are to come–I'm game. I am reinvigorated by that simple exchange of smiles, knowing in my heart that it's all been worth it–every lost hour of sleep, every room temperature cup of coffee, every ache in my body–it's all worth it to see these two loves of mine love each other. What a gift.
It's getting GOOD, Mama, so just hang in there. Look for it and remember it when you see it: the Sibling Glimmer.
---
Have you spotted the Sibling Glimmer? I would love love LOVE to hear about your experiences! Please share in the comments or let's chat on Facebook!