Let's face it, we parents need all the help we can get when it comes to air travel. So that's what I'm sharing with you today: tips, tricks, little known facts, hacks–everything that three years of frequent infant (and now toddler PLUS infant) air travel has taught me.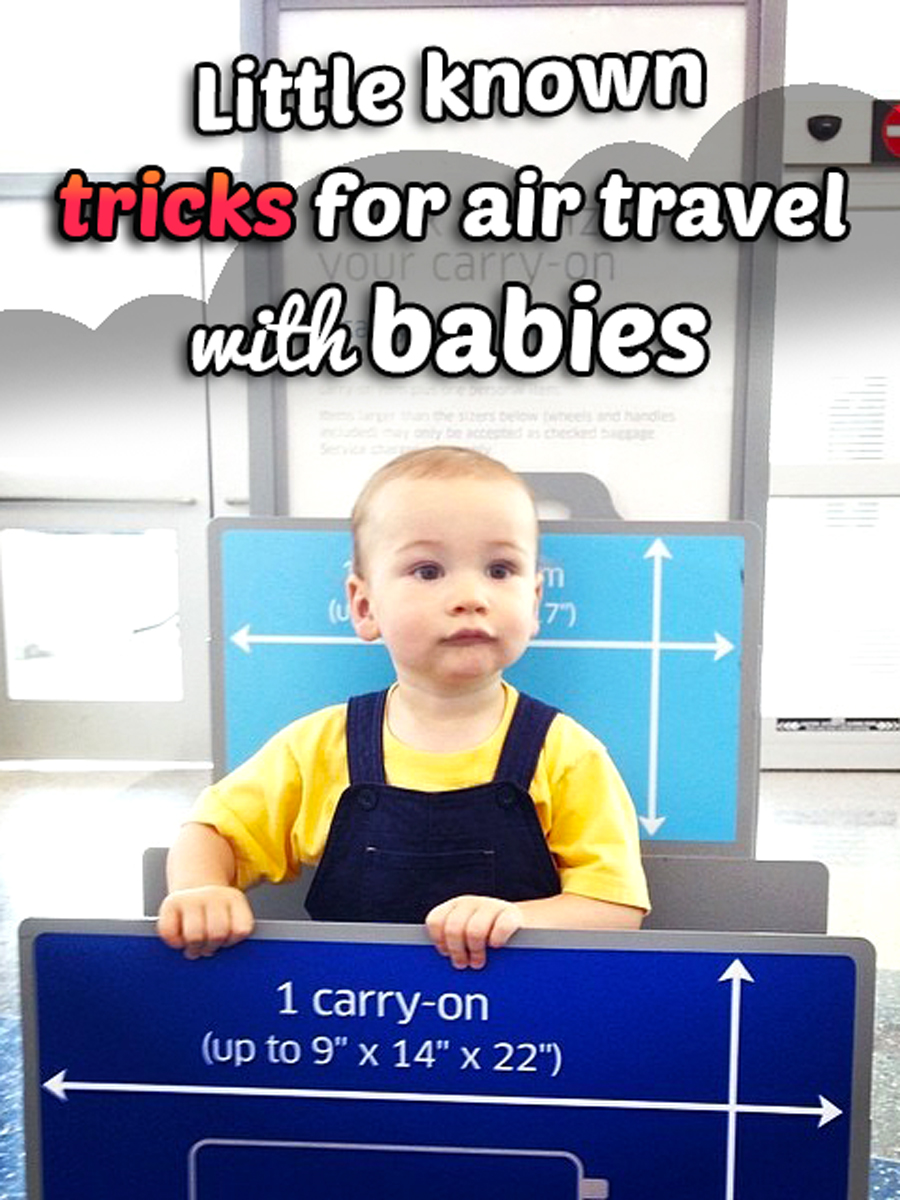 This is a sponsored post written by me on behalf of Angel Baby and contains affiliate links to products I love. All opinions and tips are 100% mine.
You cannot be charged to check a car seat and/or stroller.
It's true! Car seats and strollers are free to check at either the baggage drop off or the gate for any airline. You can check one of each per child! Don't believe me? I tested the theory on the most notorious fee-happy airline: Spirit. You know, the airline that practically charges you for breathing? We checked our bulky infant car seat at baggage claim with TWO bases and it didn't cost us a penny.
What's the value of a free checked car seat? Well…we recently rented a convertible car seat with a rental car for $13.99 per day (the car seat rental was just as expensive as the car itself!) If I had known we could bring our own car seat at no additional charge, we totally would've done it. I like to save money whenever possible, that's just me. You may prefer to save the hassle, and I respect that. It's just important that you know.
Protect your car seat with a car seat travel bag.
So, if you are going to bring your car seat along with you, be sure to protect it! I highly recommend the Car Seat Travel Bag by Angel Baby. It's made from a durable, double strength polyester fabric that will not tear. The lightweight fabric is water resistant and protects from dirt and germs. We put it to the test on our latest flight and it worked wonders for us.
First of all, I appreciate that it folds up into a small, convenient hand bag!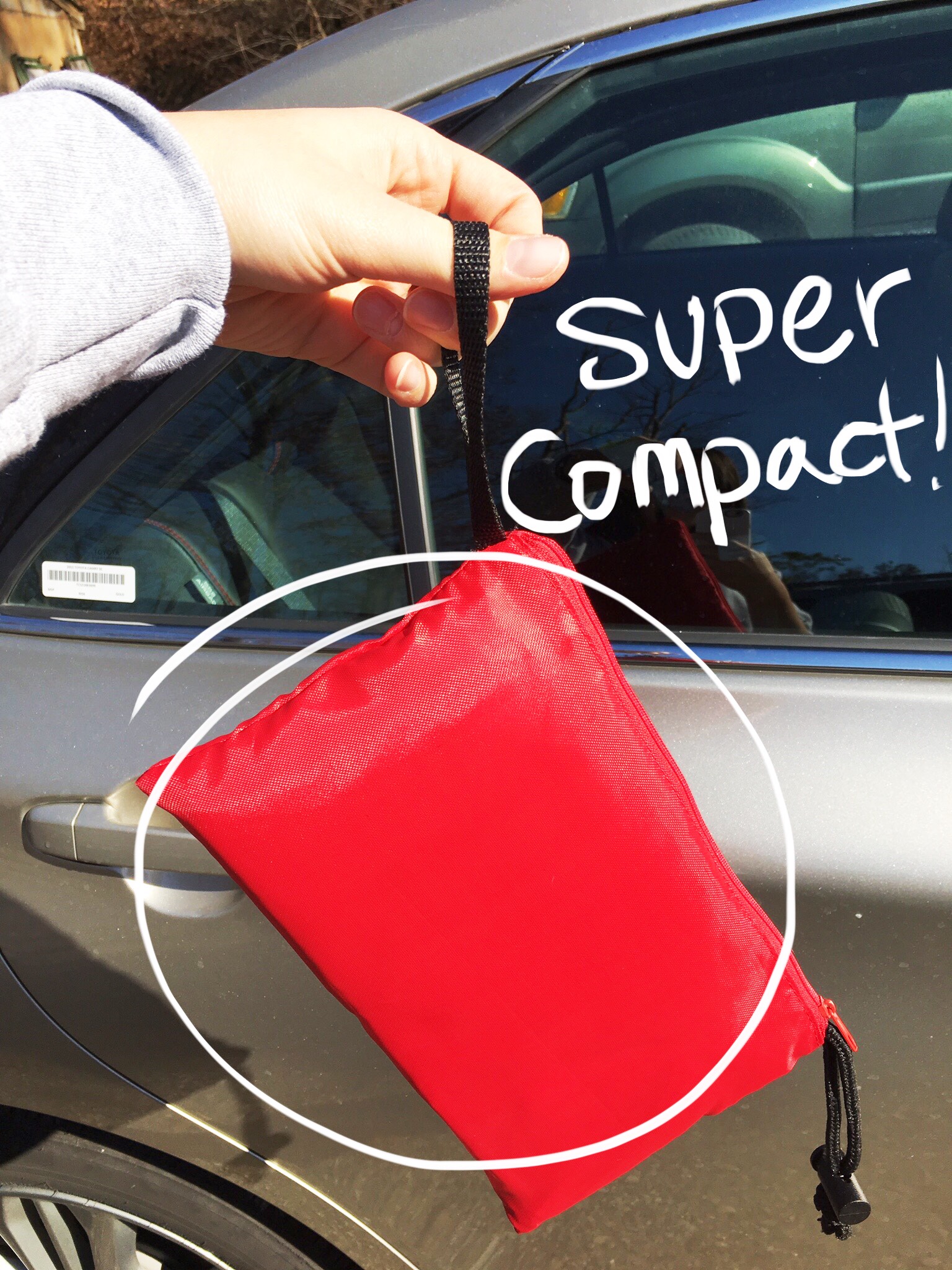 The universal size made it easy to fit our bulky infant car seat with its TWO bases inside.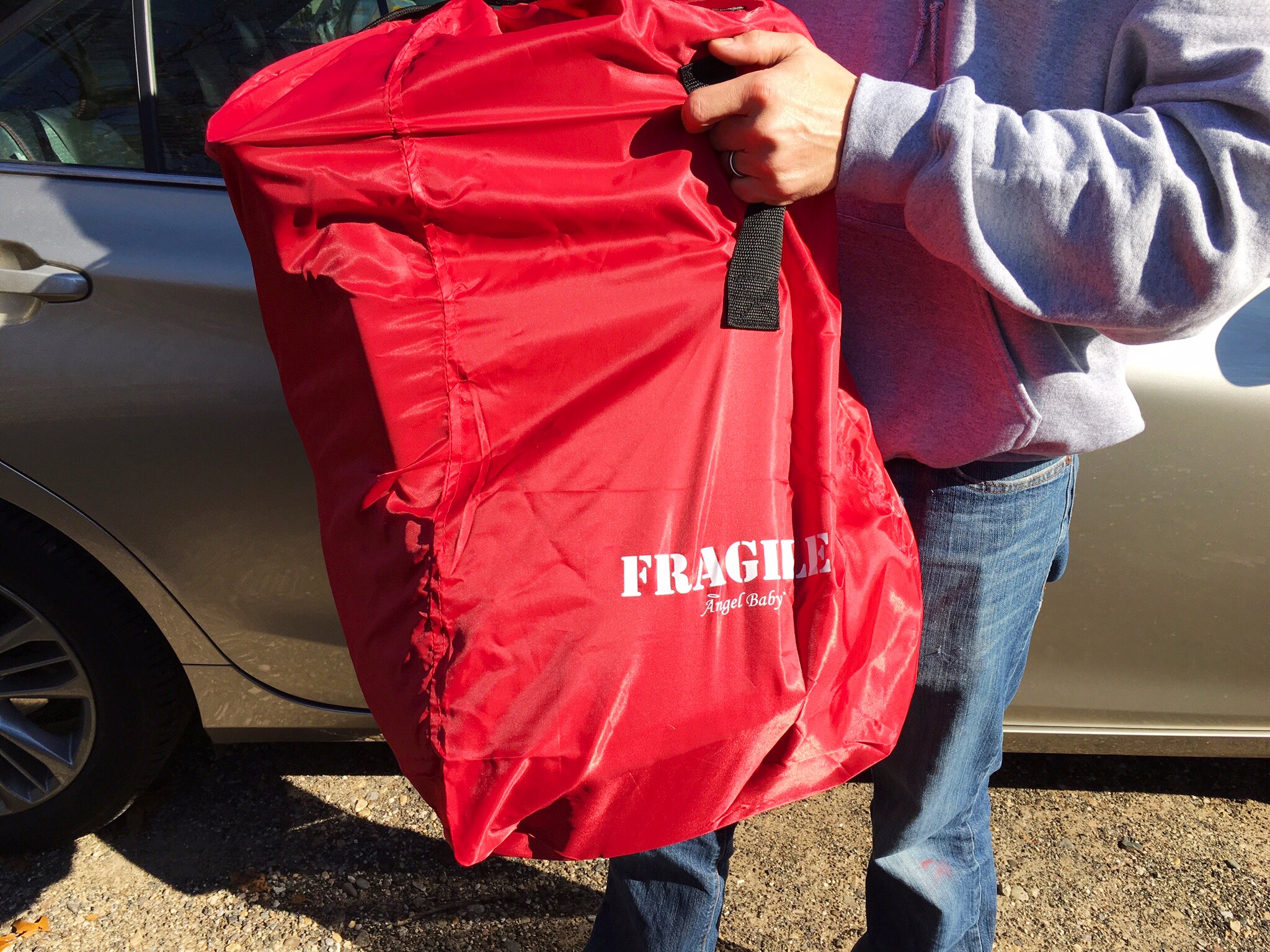 We could carry it with either the shoulder strap or carrying handle–both of which are unmatched for durability. It was easy to spot on the conveyor belt with its bright red color, large graphics and the ID Box where we wrote our information (because car seats are quite the investment, let's face it.) The best thing is the value! It's less than $20 and it will last a lifetime–Angel Baby guarantees it! And right now, you can use my discount code for an additional 30% off when you purchase from Amazon! Enter 30TMSN15 when you check out!
You can bring more than 3 ounces of liquid through security if it's for a child.
Yes you can! I used to bring an empty sippy cup and fill it up after security at a drinking fountain. That works, especially if you have a younger toddler who is prone to spills. A TSA officer recently told me that I am welcomed to bring bottled water for my kiddos, they'll just need to test it (not really sure how that works, but he pointed to some machine behind him…) I will definitely take advantage of the bottled water allowance because as a nursing mama, I do not need my water intake rationed by $7 bottled waters and drinking fountains for a whole day of travel.
Every security experience is different.
Security has got to be the worst part about air travel with little ones. Once you're through it, you can take a breath.
Sometimes agents will let you cut to the front of the line because of your kids, sometimes no one wants to hold your spot in line while you emergency rush your toddler to the bathroom. Sometimes they let you keep baby in the stroller or baby carrier as you walk through the metal detector, sometimes they want all of the gear to go down the conveyor belt. Sometimes your toddler gets a cool sticker and feels like a million bucks, and sometimes you get the TSA officer who probably eats children for breakfast. So, just read the signs, ask the nearest TSA officer what they expect of you and comply. Lower your expectations. Don't let the antsy people behind you stress you out. Invite them to go around you if they must. Stripping your shoes, belt, laptop, bag of liquids all while keeping track of a plane ticket, your ID, and a small human or two is no easy task. If nobody else gets it, forget them. Do what you gotta do. A few things that will minimize your hassle:
-Wear slip on shoes.
-Do not wear a belt.
-Kids under age 12 do not have to remove their shoes (unless yours is like mine and does not want to   be left out of this fun opportunity to go barefoot.)
Choose your flight time wisely.
Tuesdays, Wednesdays and Thursdays–YES.
Late morning, middle of the day, early evenings–YES.
Friday mornings, Sunday evenings and Monday mornings–NO.
The day before or after a holiday–NO.
Think like a business traveler and avoid their peak travel times like the plague. They don't like to travel with kids around and because of that, you won't like to travel with them around. I overheard a business guy compare my kids to a barking dog in line with us. Yeah. Peak travel times will make for the longest lines and the most expensive tickets, so do whatever you can to travel in the middle of the day in the middle of the week! Bonus points if you hit the nap time window perfectly.
Consider an extra set of [adult] hands.
Sometimes your sanity is worth paying for. Did you know there are websites that connect traveling parents with nannies? This became popular when I was in college, and it's kind of brilliant. Pay a college nanny (or someone along those lines) who is already traveling on your flight anyway to lend an extra hand with your kids. If you're not into this concept, consider flying a friend or family member your way first and then flying back together.
Help their ears pop.
You could have the most easy-going kid in the world, but if the cabin pressure gets to them, it doesn't matter. They'll be a crying mess and you'll be at the end of your rope in no time. So, be prepared. Bring interesting snacks (the kind that take a while to eat are great, like those handy freeze dried yogurt drops!) Nurse or bottle feed during take off and landing. Bring a pacifier. Drinks, gum if they're old enough, whatever it takes to get them to swallow. Also, try this fool-proof trick that a flight attendant taught me— it'll soothe absolutely anyone's ears, yours included if you need it!
Bring more outfits and wipes than you think you'll need.
It never fails: the diaper blowout of the century will happen en route. And it won't just destroy your baby's outfit, it'll get all over your pants as well (I'm speaking from very unfortunate real-life experience here.) Do yourself a favor and keep multiple outfits for baby in your carry-on (the all-in-one footie pajamas with ZIPPERS are my favorite for travel,) and at least one extra for yourself as well, because no one wants to walk around with poop pants all day.
Speaking of carry-on, get this really cool kid seat that attaches to a carry-on to avoid the awkward stroller/luggage juggle.
Limit your own liquid intake (and maybe your potty-trained toddler's too.)
Just for a while because the less you have to rush to the bathroom with your kid(s), diaper bag, and whatever else, the better. Skip this tip if you're breastfeeding, though, you keep guzzling the good stuff, Mama!
Anything can be a toy, really!
Space is a premium in the air. You don't have room for actual toys that will entertain your baby for a total of five minutes and then never again. So get creative with items you already have! Burp cloth peekaboo. Jingle bell keys. Sing songs with hand motions. Sort the M&M's by color before eating. Play "zoo" with animal crackers. Make funny faces for your phone camera. You get the idea.
Hands-free baby-wearing is your friend.
Put your baby in a carrier (my favorite is an Ergo Baby with the front pocket for wallet, phone and ticket!) for easiest travel. But don't get too comfy in your seat. Baby has to come out of the carrier for take off and landing. And no, wiggly toddlers may not be seat belted WITH you (tried this.) You need your own belt on and lap infants have to sit freely on top.
This is survival; be ashamed of nothing.
There will always be judgmental strangers at the airport. It's a given. Whether they say it out loud or give you that raised eyebrow look of disapproval, they're judging your parenting choices.
Whatever. Forget them. Shake it off.
If you need to put your toddler on a leash to keep him safe and your sanity in tact, do it. If you need to lift the floodgates on screen time to keep your little one sitting still for the whole flight, that's fine. If your child is throwing a perfectly timed (NOT) tantrum and takes to laying on the floor in the middle of the airport, you do what you need to do. Just survive the next few hours, expect nothing of strangers, and maybe someone will surprise you with some kind words or even a helping hand with a bag, you never know. This is not a reflection of your day-to-day parenting and you'll never see these people again, so don't let anything that they do or say throw you into a bad mood. Your kids deserve your very best and we all know that our bad moods tend to be taken out on them. The kids don't deserve it. Travel is stressful for them too. Have a good time with them, make some memories, take a hundred selfies, and be ashamed of nothing.
---
I would love to hear about your travel experiences or plans with little ones in tow! Please share in the comments or visit me on Facebook to keep the conversation going!
---
Believe it or not, I have MORE tips about air travel with toddlers!