Hi there! I'm thrilled to have my dear friend and former roommate write a guest post today! She is a great source of encouragement to me as a mother and I hope she can be that for you, too. <3 Kate
This morning I attempted to get out the house for a walk before the temperatures soared. In our home, getting out the door is a feat comparable to scaling Everest: the Toddler needs to be fed, the Newborn nursed, clean diapers for all, and try to be back before the Toddler has a naptime break down or we all regret the outing. I have a side by side double stroller and in a small town that doesn't know what else to talk about, we are quite a sight. As I'm passing by, it's normal to hear comments such as, "Wow—there were two babies in there!" As we neared the downtown area with its quaint coffee shop, antique shops and old-fashioned pharmacy, I spotted a man getting into his car. He smiled at us and I smiled back; that is, until he made this comment:
"You've got quite a chore there, huh?"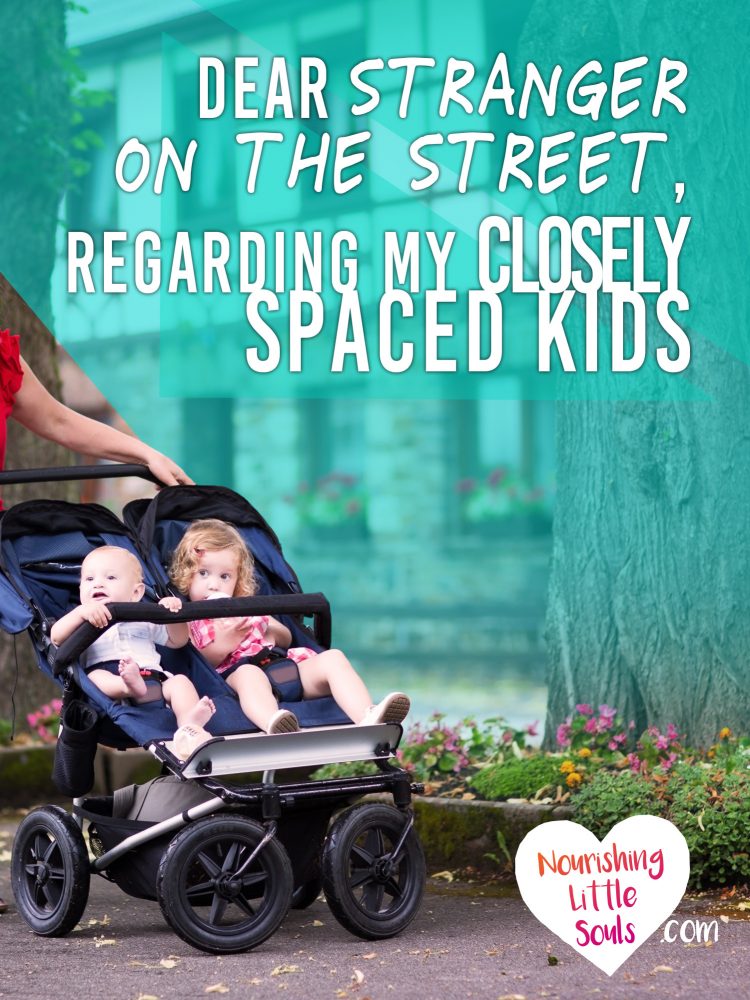 Somewhere, somehow, someone in our culture decided that it is acceptable to space your children out by two or more years. No less. If your kids are closer together, there are only two options: either they are an accident or you're just plain crazy. If I had a quarter for every time people made the following comments to me…
"Eighteen months apart—wow, you must be tired!"
"What do you do with all your free time?"
"You sure have your hands full!"
Referring to my oldest son: "Do you feel like he's missing out on babyhood?"
 "You really need to wait until you have another one. At least until they're past kindergarten."
 "Was he planned?" or better yet, "That one must have been an accident!"
"Will you have all your kids this close in age?!" [insert incredulous expression]
Or my favorite (because we live near a large Amish population): "Do you want to be Amish?"
People, please stop acting like it pains you to see my kids so close in age. It certainly does not pain me; in fact, it brings me great joy. Yes, I am tired! They require my undivided attention, and I hardly have time for anything else.  But these comments reveal the way our culture has demeaned children.
Do you hold the Scriptures as the Word of God? If so, I challenge you to see children the way God does. Instead of asking me if I know what birth control is, be delighted with me that He has given me double blessings. Don't pity me; I am being taught the gospel. At its core, being a mother requires me to serve, to give myself up for the sake of another. Isn't that the very definition of the gospel?
My boys will grow up only one grade apart. They will probably share clothes. I'm sure people will ask me if they're twins.  But I haven't deprived them of anything; I've given them a playmate, a friend, a competitor. I've given them each other.
Stranger on the Street, I couldn't respond quickly enough as I sped past, trying to beat naptime blues. But I have one now: please don't tell me this is a "chore". Chores conjure up feelings of drudgery and obligation. These children are a gift to me straight from our Creator to teach me who He is, how He loves us, and how to love others. But thanks for your comment; you've given me a reminder, amidst the diapers and exhaustion, that I am one blessed Momma.
If this post resonated with you, read on, sister!