Giving birth hurts like the dickens. It doesn't have to–I know–because we have these wonderful drugs known as epidurals, but for me and my second baby, I wanted to do it naturally.
I've told you before how my first birth went south. It wasn't just one thing that caused it to end in an emergency c-section–I know this–but it was induced with pitocin and things really got scary after I had an epidural. So, while I am not here to argue for or against medicated births (I hope you won't either)–I knew in my heart that I wanted to give a natural VBAC my very best shot the second time around.
I'm about to share the one breakthrough I had that got me through the most painful moments. It's personal. And when we make personal things public, we run the risk of getting deeply hurt by words. But I think it's worth that risk if it will speak to even one of my sisters out there who is preparing for a natural birth. Out of all of the books I read and birth classes I took–this is the one thing I would want to pass along to my fellow birth-giving mothers.
This post contains affiliate links that cost you nothing extra but instead help support the family behind Nourishing Little Souls.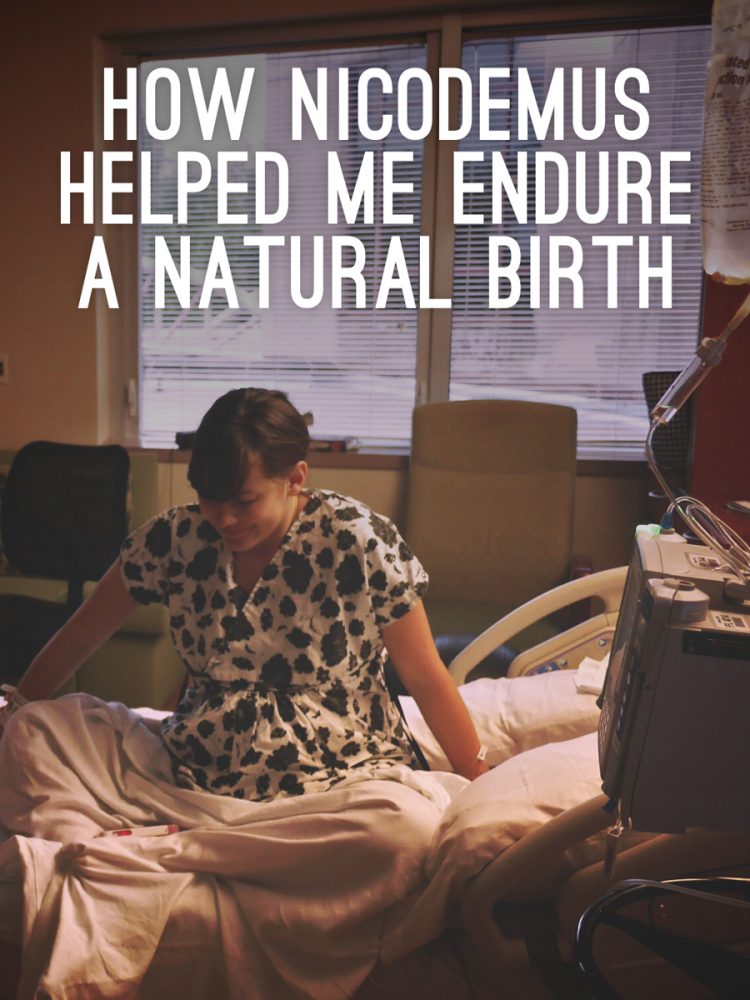 I get asked about my hospital gown a lot so here is a link where you can get your own! I highly recommend it–they make for easy nursing and skin to skin bonding right after baby is born. They're also just, ya know, pretty. :)
For those who haven't lived through it yet, contractions come in like tidal waves of pain. They rise and reach a peak and then come down and there is a lull until the next one. This. All day, all night. Hours and hours. They intensify, yes, but they eventually reach a point where they won't hurt much worse (at least until the pushing), you just have to see the rest through. You have to be patient. You have to endure. And the key to that endurance is in your mind.
You have to know that there is a set number of contractions that stand between you in pain and you holding your sweet baby. Every contraction you have will never have to be had again. One at a time, one step closer to the end. If you endured that one, you can endure this one. Just persevere.
When you're having a contraction, your mind goes to something. Probably just one thing because there isn't room for much else. One thought. One meditation, if you will.
Somewhere between 3 and 5 centimeters of dilation, when I felt like I had way too far to go still, my one thought during each contraction was: "The next time I see a nurse, I'm asking for an epidural." I thought it every time. I fixated on it. "After this one, I'm throwing in the towel." I'd get a break in between contractions, just long enough to think I could make it through just one more. But then there my mind would go as the tidal wave came in, "I can't do this for five more centimeters. Not one more. The pain is too much."
But something better came to mind somewhere around 5 cm. I credit the many who prayed for me during those difficult moments as my husband live-tweeted the experience. The Lord acted by redirecting my thoughts heavenward.
My mind went to Nicodemus. That account of his exchange with Jesus found in John 3. For some reason, my two-year-old had me reading it in his Big Picture Story Bible dozens of times throughout my pregnancy. (He was so interested in the story that he suggested we name our new baby Nicodemus!) Here's a portion of the account, but I encourage you to read and study it yourself:
Now there was a man of the Pharisees named Nicodemus, a ruler of the Jews. This man came to Jesus by night and said to him, "Rabbi, we know that you are a teacher come from God, for no one can do these signs that you do unless God is with him." Jesus answered him, "Truly, truly, I say to you, unless one is born again he cannot see the kingdom of God." Nicodemus said to him, "How can a man be born when he is old? Can he enter a second time into his mother's womb and be born?" Jesus answered, "Truly, truly, I say to you, unless one is born of water and the Spirit, he cannot enter the kingdom of God. That which is born of the flesh is flesh, and that which is born of the Spirit is spirit. Do not marvel that I said to you, 'You must be born again.' The wind blows where it wishes, and you hear its sound, but you do not know where it comes from or where it goes. So it is with everyone who is born of the Spirit." John 3:1-8
Born. Born again. Born once in flesh; born once in Spirit. The metaphor of birth and rebirth shouldn't be lost on us because we've heard the phrase "born again" so much. Jesus chose it with purpose. With such good purpose.
Now, I'm sure this will only resonate with those who have truly been born again, who understand the depths of their own depravity and have been brought to the feet of Jesus–believing fully in His perfectly lived life, sacrificial death on the cross, and real resurrection. If you've been born again, then reflect with me on how your second birth came to be. It was Jesus, there on the cross. Suffering. Torturous pain. Enduring all of the punishment that we deserve and feeling every bit of pain in His human body. All for our second birth. All for our eternal life. He did that. For you, for me, for all who believe.
So, back in that hospital room with the pain. I fixed my thoughts on my savior enduring so much pain to give me a second birth, to give me an eternal life in His presence. I focused on my sympathetic high priest there on the cross and with me in each wave of pain. I left no brain space for thoughts of giving up or giving in. I spent each contraction meditating on the truth that Jesus revealed to Nicodemus. And there I found the strength to give a first birth. Only then and with those thoughts could I endure that momentary affliction in order for my son to have an earthly life. I can do it because Jesus did it first and perfectly.
What Jesus endured was so much more than what I went through, I know. But something about becoming a parent helps me to understand a fraction of the love and reason behind His sacrifice. Jesus endured a day of death so that all of His beloved could have an eternity of life. Life with Him. And with that thought at the forefront of my mind, I knew that I could endure my own day of death so that my beloved could have life on earth. Life with me. And Lord willing, life with Jesus as well.
I'll spend all of my days praying my children would also have a second birth, nourishing their little souls with all that I am. And when I'm tempted to fixate on the pain, the frustration, the suffering, the little things that can bog a mom down in her daily life or the "quick fixes" for any of it, I am striving to turn my mind heavenward. May the Spirit turn my mind and yours to higher things than the moments we think we can't endure.
If this post resonated with you, read on, sister!