The pain wasn't what I expected.
I thought if I could take a hard punch, I could endure a contraction.
But the pain ran achey deep.
The labor pain–it makes you feel sick, weak, powerless; there is nothing you can really do to relieve it. So instead, you have to learn to endure it, cope with it. Stop trying to tense and brace for it, and instead relax, breathe, focus your mind on the right things (and not the wrong ones.)
As I labored I learned that it's not so much about how tough you are, but how patient you can be. Even when the pains feel nothing like progress, when they just hurt. 
And that, Adoptive Mom, is where your labor pains and my labor pains are not so unlike each other.
But my pain is well-known to the world, and yours, sister, is more hidden, quiet, underestimated. I know that because I envied you. As the pain came in like tidal waves against my body on that bleak birth-giving day, I thought your path into motherhood was the one way to get there pain-free. But I was too naive, sister, please forgive me.
Because you know and I know that no one escapes the pain in child bearing.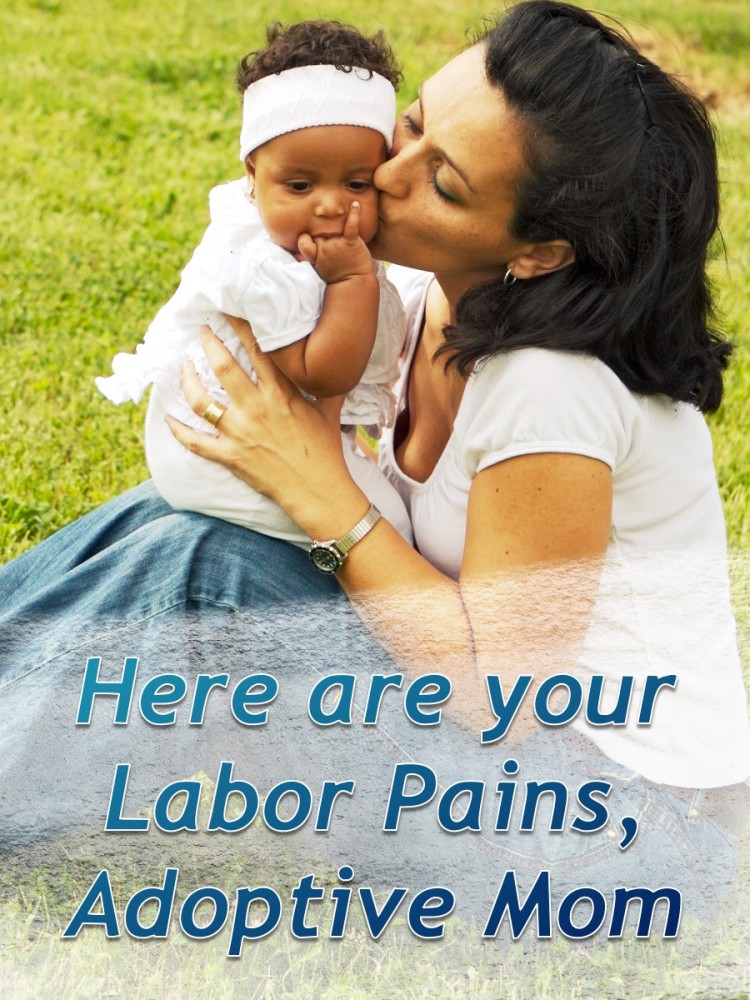 Your pain is in the monetary journey, how it's just the first step, and yet it can take years of hard work and sacrifice to even take that step.
Your pain is in the paperwork as it gets rejected, held up, sent back, lost.
It's in the home study, the scrutiny, the having-your-whole-life examined to determine your parental fitness.
Your pain is there in the waiting–for a referral, for a match from an agency, for a birthmother to choose you–for a word, a photo, a name, a life, a hope.
It's in the bureaucratic process, in those countries that shut down adoptions indefinitely.
It's in the months, the years that go by while your son or daughter is in someone else's care.
Your pain is in those scary first days and weeks when a birthmother can change her mind. And might.
It's in the attachment struggle, when your toddler weeps for her foster mom or your child lashes out in anger at you.
It's in the bracing you're doing right now as you wonder how to answer the questions that will most certainly come.
Your pain is in knowing that somehow your gain was another mother's loss. That this little one you love so dearly came from some kind of difficult circumstance, and that hurts you too.
I see your pain. It's real. And your strength, your patience, your grace, your selflessness–it all shines as you endure it.
Our labor pains are different, yes. Mine are [mostly] in my body and yours are [mostly] in your heart. Mine are over in hours and yours can stretch over the years. Mine are my own to bear but yours are shared with someone else, whether you know her or not.
But the pain in child bearing is felt by every mother indiscriminately. We all have deep achey pain to endure. It's in the powerlessness. The discouraging lack of progress. The waiting. The temptation to give up even when we know that's not an option. We push through because of the love that runs deeper than even the worst labor pain. And once we have our child in our arms, we know we'd endure it all again if we had to.
One mom to another, I marvel at the bravery in your fight and the power of your love. Press on, sister.
If these words resonated with you, stick around, read on:
And one more thing, if you only read one book about adoption, make it this one, friends. I cannot more highly recommend it (affiliate link):