Dear Husband,
You work hard away from home, and I work hard right here at home. You provide for them and I nurture them. You protect; I nourish. We share them and we shape them. Your gifts, my gifts blend together to grow our gifts. No one in the world was designed to raise these little lives quite like we are. We love them. And we love them by loving each other.
And yet somedays I forget all of this.
I forget the wonder and design behind marriage and parenting. And instead, I resent you. You see, I spend my days meeting needs that only stay met for a few hours at a time. I don't get a paycheck or a hand shake to tell me I'm doing any of this well. It's tiring. It's challenging. And it's easiest to channel my frustration toward the one other adult person living in our home.
And on those frustrated days, the resentment takes over. Maybe it's jealousy or insecurity or just plain selfishness, but I tend to think that I'm more of a parent than you. That those ten hours I spend with our kids are more important than the two that you spend with them between work and bedtime. I think that I could probably do this without you (if I had to), but you could never do this without me.
It's a pretty self-exalting rut to get into, I know. And I'm sorry for it. I'm telling you now because I've realized how wrong I've been.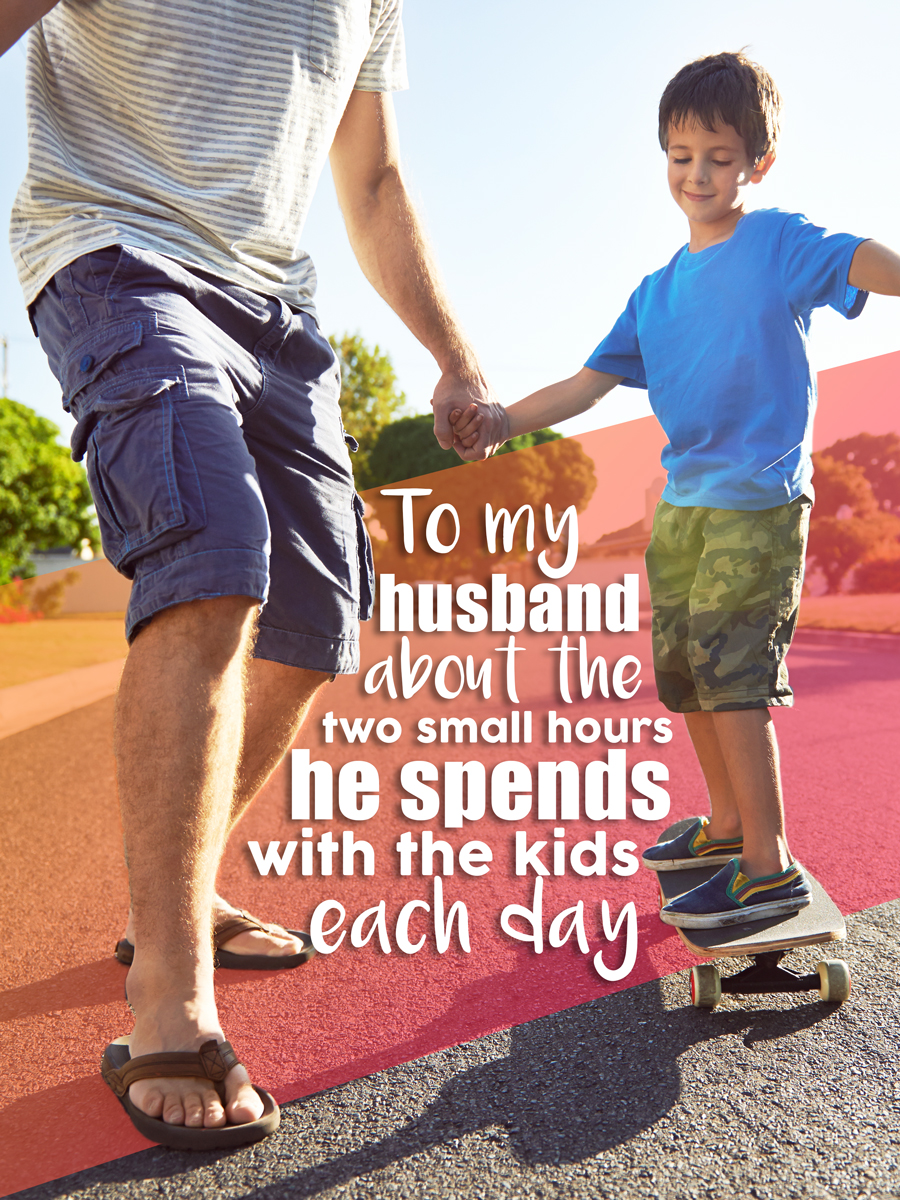 Because after I've spent ten hours with the kids, you show up. When my energy, patience, and creativity are running low, you show up with a full bar on all counts. You and your fresh fascination with their interests and new appreciation of their antics. You with your playful spirit and loving words. You with your willingness to correct the behavior I've long since given up on. It's like I've played three straight quarters and the game is only tied, but you show up with fresh legs in the fourth and you win the game.
I see the lights in their faces when you walk through that door. I see the way they adore and admire you. I see how those two small hours are some of the best hours in their day. I see how important two hours can be. I see how important you are. And I know that you're weary from your work day. I know that your body aches and your mind is tired. But you show up and you show strength in all that you do for them, for me, for us.
And it brings me to gratitude. I take delight in the design of marriage–that I don't have to be everything and you don't have to be everything. We get to do this together. We lean on one another and we lift each other. Comparing this and that isn't fruitful. Fighting against each other doesn't make sense when we can be fighting with each other.
So dear husband, I love you. Oh, do I ever love you. More than yesterday. Less than tomorrow. In the small hours and in the big sacrifices. I love you, and I'm thankful for you.
---
If you liked this post, I think you might also like…