I admit: I didn't think much about children when I planned my wedding. They weren't excluded from our guest list, but nothing about their presence on the big day really crossed my mind.
Which is why I wanted to give the biggest virtual nod I could to the brides and grooms who do think about the children who will attend their wedding. I've been to several weddings since I've become a mom and a handful of them have so thoughtfully included my children that I'm tearing up as I think about them.
In most cases, a bride and groom do not yet have children of their own. So as a parent, I don't expect a couple in a completely different season of life to really pay much thought to the needs or quirks of parents or their children. Like I said earlier, I certainly didn't.
But oh for the brides and grooms who are so much more thoughtful than I was. The includers. The ones who see their own union as the start of a new family and view children as an important part of that family. I get it now. And if I could plan my wedding over again, I'd plan it just like you did. You are a gift to parents like me in a way you don't even realize.
How have my children been so thoughtfully included on these important days?
For starters, they were invited. 
Now I know, sometimes you just have to draw the line somewhere to cut the guest list down, and age 12 seems like a fitting place to do it.
And in other cases, brides and grooms just don't want the interruptions and imperfections that children are likely to bring to a wedding day. Kids can be loose cannons, no doubt.
And still, there are some well-meaning couples who genuinely want parents to stay out late and enjoy the party in ways they wouldn't with kids present.
I get all of that. I love people who have thrown weddings with no kids invited for each of those reasons.
>>It is your day on your dime and you get to have it however you want.<<
But now that I'm a mom? Here are a few things I hadn't thought about before that really ring true now:
If I'm traveling from far away to attend a wedding but still have to find a sitter, it really stinks. Especially if all of my go-to and/or free babysitters are also attending that wedding. If I'm in a wedding and paying an arm and a leg already to be a part of it, paying for an all-day sitter is just one more big expense.
I've been a bridesmaid in two weddings as a nursing mom–if my babies couldn't have come to those, it would've been a difficult day for all of us. But instead, I have these sweet memories to hold onto.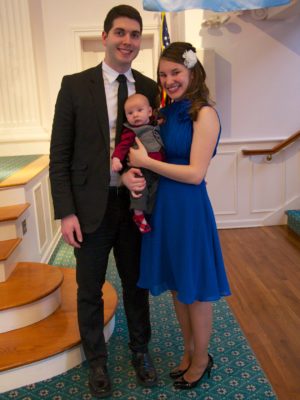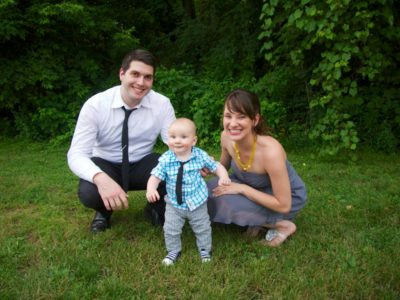 If my kids are invited but I would rather stay out late and party without having to care for them, I will hire a babysitter. In fact, I just did that last weekend. (The wedding was out of town, and the groom even offered to help me find childcare, how thoughtful is that?) I just sincerely appreciate having the choice. It means a lot for my kids to be welcomed whether I end up choosing to bring them or not.
So aside from being included on the invitation,
There have been kids' tables.
These are the thoughtful gestures that just pluck my heartstrings.
My friend's wedding had a coloring table, bubbles, candy–all presented with a bit of whimsy. It was a sweet way to entertain the kids until dinner was served.
My cousin's wedding had a table set up during the cocktail hour with personalized boxes for each kid filled with little toys, stickers, candy, a pen and drawing pad. My kids thought they were hot stuff toting around their little loot.
These brides had hundreds of other details to think about, but these details made our boys (and, let's be real, their mom) feel so loved.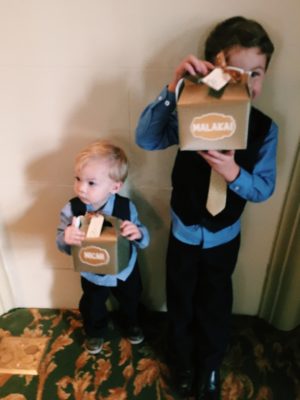 And finally,
There has been a place for them to be kids.
We've been to weddings with yard games set up, bubbles, chalk and hula-hoops outside. Here in Texas, there is usually a watermelon seed-spitting contest at some point (is that a Texas thing or is that just my quirky in-law family? :P) I know not all venues can provide this kind of space, but it sure is nice when they can. If the space is there, encourage its use!
What's in it for you for throwing a kid-friendly wedding?
A dance floor is just about never empty with them around. They won't add a dime to the bar bill and yet they will provide hours of entertainment with their shameless and imaginative dance moves. And you can bet that my kids will get me out dancing like a fool alongside them, too.
Kids can be messy and loud, I know, but they may be the most joyful, absolutely non-critical guests you have. My preschooler randomly brings up distinct memories he has from weddings he has attended in the past two years. And, ya know, when I think about it, some of my fondest childhood memories took place at big family weddings where I got to cut a rug with my cousins and hug a real-life princess (AKA bride.) How cool is it to BE that princess or provide that fond memory for your little cousin, niece or friend?
And furthermore, you're making an impression on them. Your big day is teaching my kids about the joy and beauty that comes with marriage. They didn't get to see my wedding day, but I know that they're putting puzzle pieces together when they see yours, think of mine, and perhaps even speculate about their own someday. That's a neat role you get to play for such impressionable little hearts and listening ears.
Finally, you're telling them that they're a part of this, too. You're telling them that they matter to you and that they are important to you. All children need to feel valued and cherished in such a way, and what a gift you're giving the whole family by doing it.
Bottom line: kids really bring life to a celebration.
And as a mom to littles, I just have so much respect for you brides and grooms who think beyond your own season of life and love families like mine through your special day. And maayyybe you don't want to hear this (wink wink) but should it be your path, I am certain you'll make wonderful, thoughtful parents some day. <3
I'd love to hear your thoughts about kid-friendly weddings! Have you been to a wedding that has touched your heart as a parent? Any ideas to share?
Thanks for stopping by! If you enjoyed this post, I think you might also like…