We all crush it.
Not every time, but definitely every day. We as moms do what might look small to the world but feels huge to us–and IS huge to the wellbeing of our families.
It might be different for each of us. It might be getting up early enough to get a shower in and collect your thoughts before the kids wake up. It might be getting a hot breakfast on the table, lunches packed and dinner in the crockpot all before you're dressed for the day. It might be tossing aside your plans for the moment so that you can wear a sheet cape and build a fort with your superhero. And hey, it might just be folding that basket of laundry that you washed…last week.
This is crushing it: when we tackle the thousands of tiny tasks that make up our lives as moms. No, we didn't scale Everest, but we did put pants on someone who never stops running. No, we didn't run a marathon, but we got mad cardio while we played tag in the yard with our kids. No, we didn't embark on the trip of a lifetime today, but we did invest our whole selves into the loves of our lifetime.
So for me, my mini-Everest is THE MORNING. I'm the most non-morning mom there is. Bless my children because as much as they deprive me of sleep throughout the night, they usually sleep until 8am or 9am. This is great unless we need to be somewhere.
Getting somewhere in the morning might seem small to many but to this mom right here–it feels enormous.
I happen to be friends with moms whose kids are of the 6am waking crowd. This makes for playdate invitations at 9am. Church, doctors appointments, and the like? All early morning events.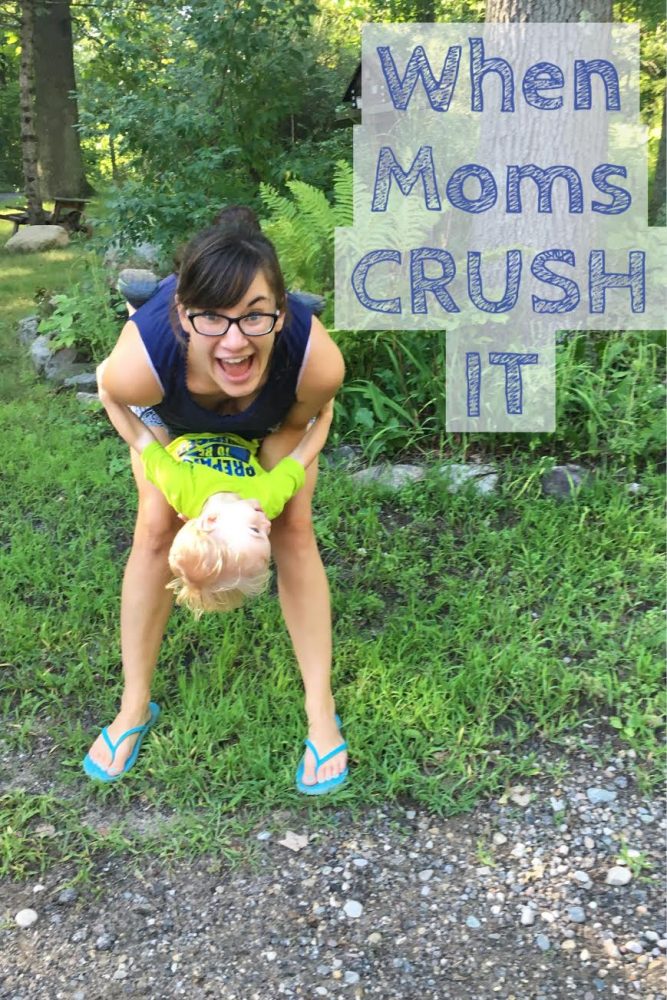 So I'm learning that for me to crush my mini-Everest–to get out of the house with my two kids, full bellies, everything we need, and my sanity in tact–I have to give myself a few crushing-it boosters. Here they are:
1.) Pack the diaper bag like a boss the night before.
And usually that means bringing it in from the car (anyone else struggle with this or just me?), taking out old sippy cups and stale cheerios and thoughtfully stocking it for the next day. Will we be out long enough to have lunch? Pack the PBJ's the night before or it won't happen.
2.) Make simple breakfasts.
I love hot breakfast. Nothing on planet earth beats a breakfast taco with fresh salsa and sliced avocado with a cup of coffee and some OJ. But Kate, you cannot. YOU CANNOT ALWAYS HAVE A HOT AND DELICIOUS BREAKFAST IN THE MORNING. (I have to yell this at myself sometimes.) So, I've bought a Costco-size box of frozen waffles for the absolutely last minute, eat it in the car as we drive breakfast. I also make double batches of my blender pancakes a day or two before the busy morning to eat on the go. One more quick food is to pre-pack a healthy trail mix tailored to you and your kids (cereal, dried fruit, nuts, granola clusters.) And these simple breakfasts, my friends, have started saving me dozens of minutes on our busy mornings.
3.) Find all the shoes.
It's ridiculous how many times we've added 15 minutes to an already running behind morning because I could find one shoe but not the other. So, I'm resolving to find the matching pairs of shoes that my kids will wear and set them by the door.
4.) Take the coffee to go.
What's a mom to do when it's a simple-breakfast-get-out-of-the-house-morning and there's no time to sip her morning brew in her PJ's? The answer is Dixie® To Go cups. I have a stack right next to my coffee maker. I pour myself a cup of coffee with my favorite creamer and a dash of cinnamon, and I hit the road.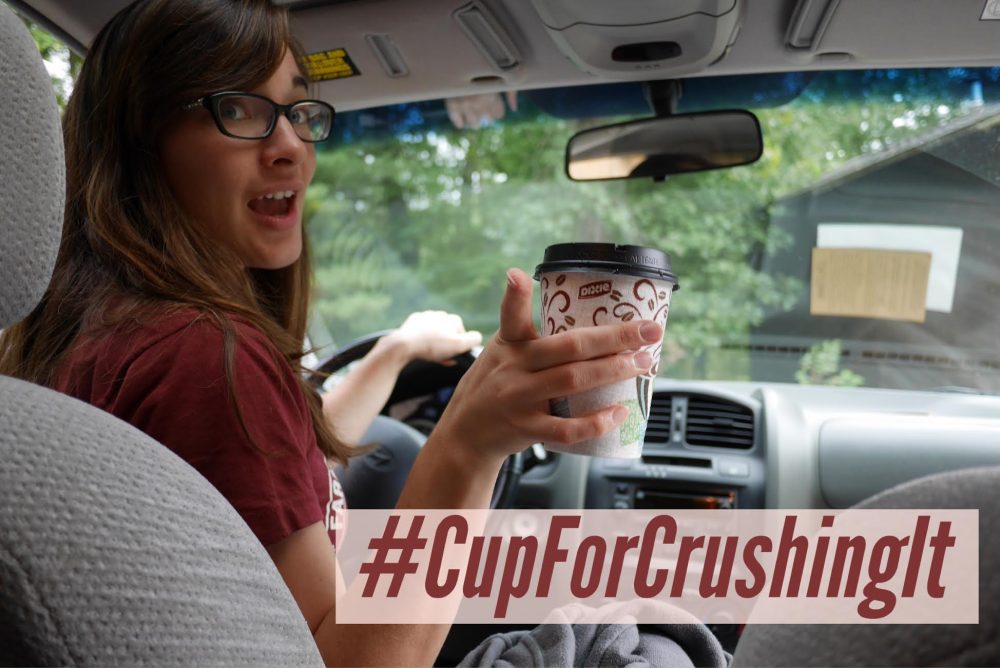 Now, you might be wondering why I don't drink from a reusable travel mug, but before you go sending me one for my birthday (you're so thoughtful!) I have PLENTY. But as a busy mom, I have totally stopped using them because for one thing, they're a pain to have to wash by hand. And for another, I hate finding them forgotten in my car (hands are always too full when I get home, hence the diaper bag abandonment). I'd rather not take coffee at all (GASP) than use a travel mug. Fuh real. That's just the season I'm in.
But then if I find my un-caffienated self out and about in the morning, I am so tempted to run through the Starbucks drive-thru. And, girl, don't get me wrong, I do love to indulge in a salted caramel latte occasionally, but I cannot justify a $6 drink on the regular. I could buy a whole lunch for that much. I could buy most of the ingredients I need for dinner at home for that much.
Dixie® To Go cups are a small cost in comparison– I got a set of 14 for just $2.99. That's 14 morning when I'm out the door with the effortless convenience of coffee to go with a cup I can toss when I'm finished. That's 14 times I didn't stop at a coffee shop and thereby saved upwards to $80. It's 14 times where I knew that the leak-resistant lid and insulated layers had my back and wouldn't turn my good day bad with a spill. It's 14 little instances where I got to focus in on what matters–which is being the best mom I can be. And absolutely crushing it.
We're still thinking of having our last name changed to "Late" in the church directory, but we're getting undeniably better so long as I implement all of the aforementioned helps for my morning. :)
I'd love to hear the little ways that you crush it as a mom and the little helps that make it that much more crushable.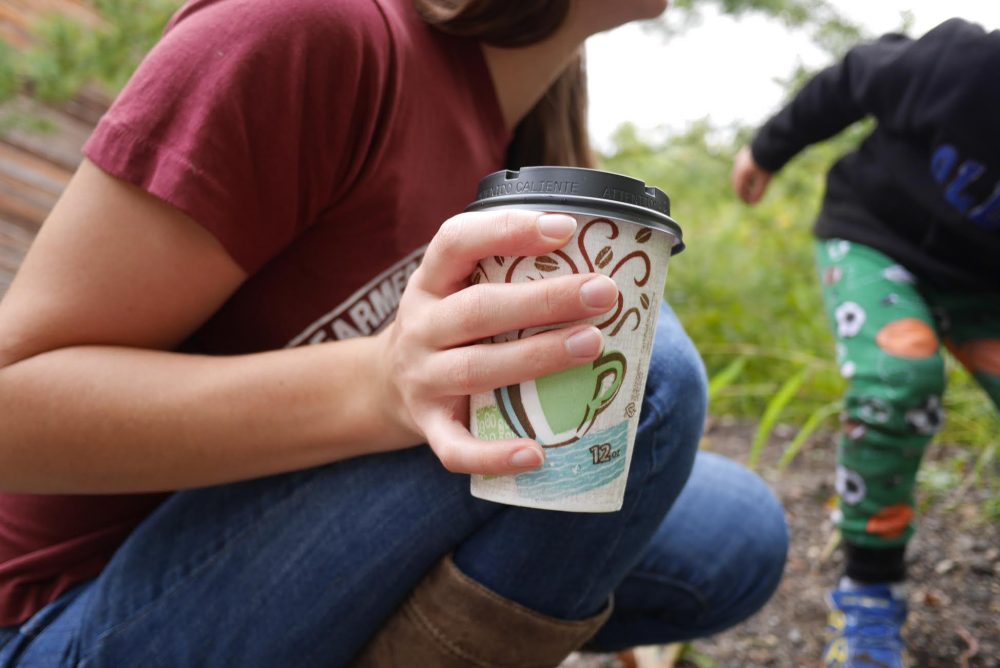 I was selected for this paid opportunity as a member of CLEVER and the content and opinions expressed here are all my own.
If you enjoyed this post, I think you might also like…