"Bike ride at the bayou this Sunday?" My husband texted me from work on Friday.
"YES," I replied.
Our family loves bike rides, and this is the time of year for it in Texas. Soon, it'll be miserably hot and we would rather be swimming than biking. But, while I always love the idea of biking, actually putting it into motion takes a lot of work. Like going to the beach. Or any day-long family outing, I suppose. There are no less than a hundred things to pack, I'm sure of it.
Which brings me to Sunday morning, when we're scrambling about trying to get the kids dressed and fed and then make sure we have everything we need to go straight from church to the bayou for riding (all before 8:30am…and we're not morning people.) And I'm right there in the chaos, feeling (knowing) like there's no way I can get it all together in time. I'm stressed. And the stress magnifies all the unfinished work I'm passing over as I head out the door: the dishes we didn't get to the night before (regrets), the overflowing laundry hamper, that leaking sink that needed fixing, and I feel it dragging me back. Asking me to give up on the day of fun, to stick with an ordinary day that gets us caught up on life.
So there I was, with the words on the tip of my tongue: the "we can't go until…" speech that I've given too many times before. Ready to take the fun hostage and demand productivity for it to be released. We can have fun–but only after the yard work is finished, the house is clean, the [whatever] is fixed, etc.
You know what the truth is, though? We would never have fun ever if I hold us to these standards all the time. There will always always be housework, yard work, broken things, and tired bodies. But there will not always be this weather and these children and this opportunity to enjoy one another and make memories together.
So I let go of my hang ups and I got in the car.
And we had an excellent day. A sun-shiny, blue-sky day. Where our 3-year-old independently biked for the first time over three miles (we were so proud!) Where our baby gave us that heart-stopping grin in front of the city skyline. Where my husband and I held hands and laughed. Where we picnicked by the water and splashed each other.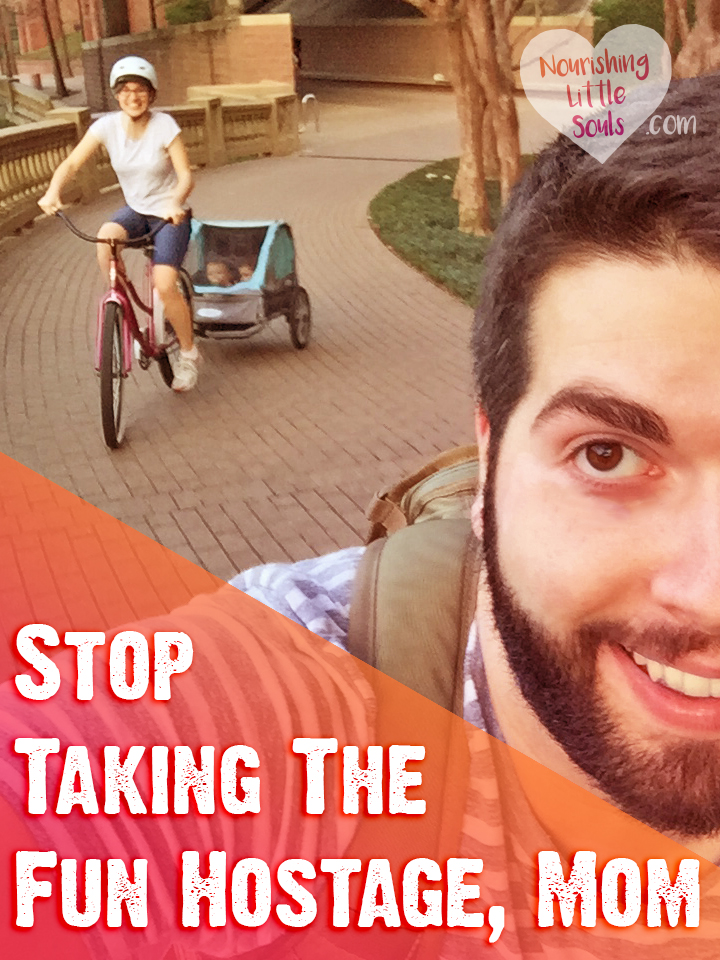 And you know what? The dishes were still there when I got home. The laundry didn't go anywhere. The leaking sink waited. Everything was still a mess, but the world didn't end. I got back to the work the next day. And I'm so glad I didn't trade our fun in for my unachievable perfection. I'm thankful to have a husband who gives me love shoves out the door so that we can do things we'll always remember. I'm glad that we set aside the work of life to enjoy the wonder of life. Let's keep doing that.
If you liked this post, I think you might also like…