You walk through the front door, exhausted. You trip over the toys strewn about, I hand you the fussy baby. The toddler has 18 things he wants to show you at once. I serve the dinner that burned while I changed a diaper and bandaged a bo-bo. We sit at our old kitchen table in our too-small home with the dishes in a heap and the bills in a stack and the laundry in three piles. We talk about our day in fragments–between baby's thrown spoon retrievals and our requests for the toddler to stay in his seat. Our heavy eyes make contact for a moment amidst the chaos and I see that look of desire in yours: for sleep. For me to volunteer to run the bedtime routine solo. For your profit to match your effort at work. Maybe just for a back rub. I know it all well because I desire it too.
I remember it, though. It's grown dim after all of these years, but I remember the way you looked at me from across the restaurant table on one of those first dates. A different look of desire. A desire for me, nothing and no one else except me. I asked what you were thinking and you leaned in to tell me you wished you could fast forward time and that I could be your wife already. I blushed. Your words gave me those wiggly warm thrills in my stomach.
We just wanted each other. But simply passing the time together wasn't enough. We wanted more. We wanted forever. We promised forever. And now we're five and a half years into that forever and we're getting bogged down in all that our love has made. Let's not.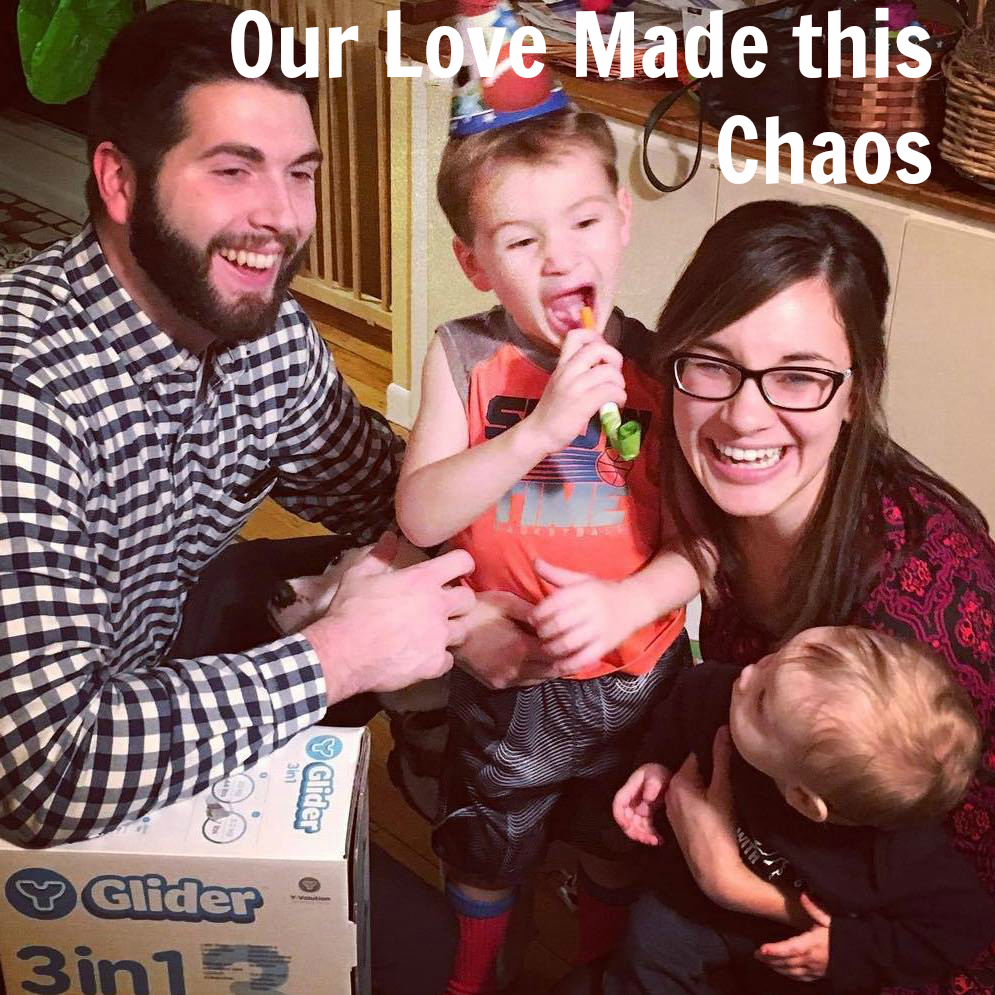 Our love made life, two new lives to be precise. Two demanding, all-consuming lives to nurture every hour of every day. Two lives who give life and multiply love.
Our love made a home, a messy one that always needs fixing. A home that costs us time, work and money to keep up, but a good home that holds all of the life we've made.
Our love made this chaos. The little hands that tug on us and the toys that we trip over. Love led to this life, this very real life. We cannot let the chaos cloud out the love. It's there. It's always been there. But sometimes the chaos feels so much bigger and the love feels so buried.
This life is a lot of work. It has caused us to sacrifice so much of ourselves for any of it to function. But let's not let our love get lost in the chaos. Our love started this chaos. Our love is the foundation for this chaos. And our commitment to keep loving through this chaotic life is what makes a forever. We didn't know it then but we know it so well now: the love is deeper, the commitment is richer, and the days truly are sweeter than we ever could have dreamed.
So yeah, I'm looking at all of the Valentine's posts from this past weekend. From those whose love is newer than ours. It's fresh and full of romance. Flowers and fancy clothes. Grand gestures and public declarations of love. More mysterious, less tested. I miss it a little: the wiggly warm thrills. But it's not gone for us, it has just grown. It's got a lot built on top of it now, and more still to come. I'm thankful for all the chaos our love has made. It makes the wonder outweigh the work. It makes living through the mundane chores and the monotonous need-meeting so much better remembering it all started with our desire for each other and every bit along the way has been infused with our love.
If these words resonated with you, stick around, read on: