I can't sleep.
That's why I'm up writing this right now.
When there is a human growing inside of me and I'm the most exhausted I've ever been, that is precisely when my body says, hey cool, let's keep her awake! Pregnancy insomnia has been getting the best of me for three pregnancies now.
I don't know what the cause is.
I've heard it can be caused by mineral deficiencies.
I know that the shrinking bladder capacity is no help.
I know we all get uncomfortable from twenty weeks on–I'm a diehard stomach sleeper when I'm not pregnant, so the struggle is so real.
I also know that we pregnant women have a LOT on our minds–from name possibilities to the stack of bills on the counter to whether we should opt for an alternative vaccination schedule.
Maybe it's a little bit of everything. Or maybe it's one thing one night, but it's another thing another night. Whatever the cause(s), pregnancy insomnia is the pits. Your baby needs a well rested mama. You know this, and that's why you're searching for answers with me.
I don't have the answer, but for as long as I've struggled with pregnancy insomnia, I've collected a lot of other people's answers, so I thought I'd just list them off for you. I hope that your answer is here. For me, different answers for different nights.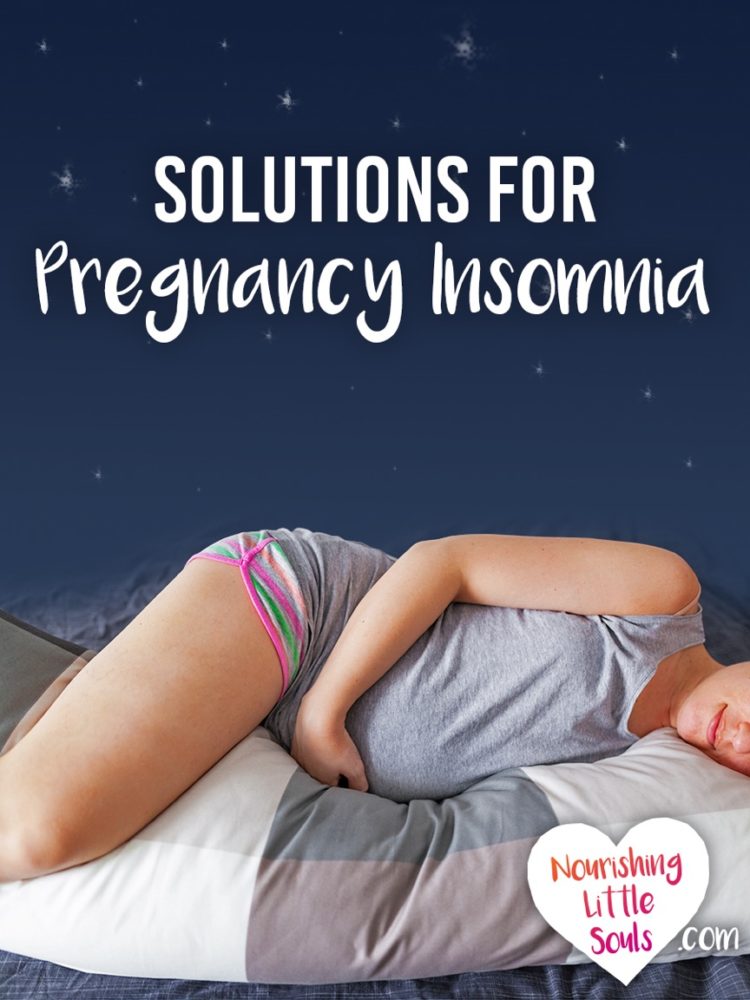 (This post contains affiliate links that cost you nothing extra to use, but instead help buy groceries for my family.)
Lavender essential oil or some other calming blend
Diffuse it next to your bed, rub on your feet, or spray on your pillow. (Here's the diffuser I use and love!)
Magnesium oil spray.
Fifteen sprays on the belly before bed. It sting-tingles a little, but I've found this one to be particularly helpful in my third pregnancy.
Eat sleepy foods:
There are so many lists out there of food that help with sleep. My take? Cherries or cherry juice boost melatonin, almonds for magnesium, walnuts for tryptophan, any form of dairy for the calcium, and honey for the slightly raised insulin levels that allow some of the aforementioned sleepy chemicals to enter the brain more easily. Sounds like a smoothie or a bowl of yogurt with toppings to me!
Eliminate electronics
by 1.) Charging your phone on your kitchen counter and 2.) Reading a book for an hour before bed rather than, ya know, your phone. (Easier said than done, for me at least.)
Make a list:
All those things you can't get off of your mind while you're lying in bed not sleeping? Get up, go to the living room, write it all down and leave the list there. Get it out of your mind and know that you'll deal with it in the morning, after a good night's rest.
Get physical.
Cuddle. Have sex. Let your body release all of those bonding chemicals that make you feel comfortable, at peace and connected to your husband. If he's already fast asleep, believe me, he probably will not mind if you wake him for a rendezvous, ya know, every once in a while. ;)
Cut the caffeine earlier in the day.
I love an afternoon cup of coffee–it's often all that keeps me going for the second half of the day. But if I've been an insomniac for a few days straight, I try to cut the afternoon cup out for a while.
Limit your liquid intake within two hours of bed.
Drink plenty of water during the day. Guzzle that stuff down. Make sure you're getting the recommended daily amount, and then cut yourself off two hours before bed. Stop the all-night bathroom madness. You can do this!
Get comfortable.
Orrr, at least as comfortable as you can. I used one of those expensive pregnancy pillows  for my first pregnancy. It was nice sometimes, but I found it burdensome when I wanted to flip over (which–for me–can be several times before I fall asleep.) I've found that a thin pillow between my legs and another pillow to wrap an arm around while I'm stuck side-sleeping for 20 weeks is the best recipe for a good night's sleep. Don't laugh at me, but it's taken three pregnancies to figure that one out. :P
Benadryl (if worse comes to worst)
*Before you jump down my throat about advocating for a drug on a blog, please do check with your obstetrician or midwife. I'm not your physician; I'm just another mom.* What I will say is that my friend's obstetrician told HER that it was better to take half a dose of Benadryl than to suffer through multiple days with no sleep. Not all natural sleep-aid supplements have been as thoroughly tested on pregnant women as Benadryl. So, please don't become a Benadryl abuser by taking it every night–but when you really need it and nothing else has worked, know that it really is better for you and baby to get a good night's rest.
So there you have it, all of the advice that has been given to me when I've been spotted in the wild looking extra haggard. I would love to add to the list if you have any solutions that you've found for pregnancy insomnia! Please leave a comment below!
Expecting? I think you might also like…