This post brought to you by Scott Tube-Free. The content and opinions expressed below are that of Nourishing Little Souls.
After my brother and sister-in-law got married straight out of college, I asked them what was different about their new married life. What does it feel like to really be an adult (asked from my 17-year-old perspective, of course.) And they made this one statement that has stuck with me ever since:
You know you're an adult when you finally have to buy your own toilet paper.
Right?! No more parents or dormitory janitorial staff purchasing and placing it for you. It's up to you to buy something that will literally get flushed down the toilet. And the thing about toilet paper? You absolutely cannot do without it. Story of our responsible adult lives, right? Nothing truer has ever been said.
And as much as it stinks (pun slightly intended), with this responsibility comes a choice–a small, yet impactful choice that we can all make for our families that will go on to make a HUGE difference in a lifetime of toilet paper usage. What is it?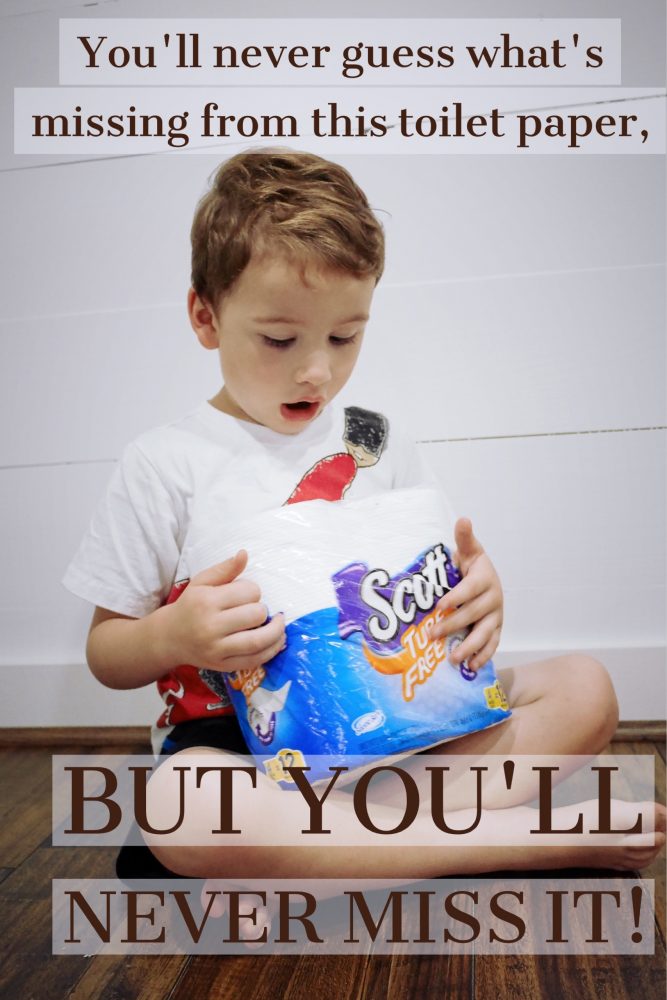 Well, let's preface the revelation with this fact: the average American household uses 150 rolls of toilet paper per year. And what are each one of those 150 rolls wrapped around? A cardboard tube. One hundred and fifty cardboard tubes tossed away in a year's time. That is a LOT of unnecessary cardboard usage.
Is there even an answer to something like this? For the 100 years that toilet paper has been an invention, there hasn't been. But now there is, and it's Scott Tube Free Toilet Paper!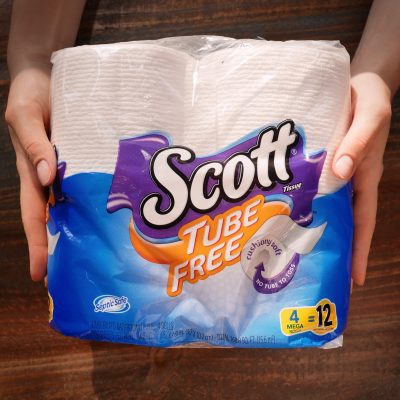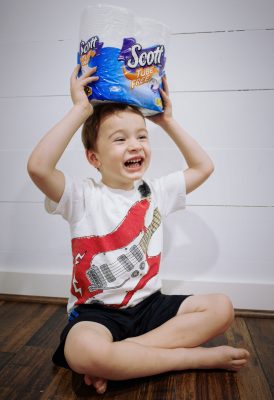 Who knew they could make toilet paper without the cardboard tubes? It's something we've all just come to expect as standard protocol when we purchase our TP. But our friends at Scott are thinking outside of the box and I love what they've come up with.
Scott Tube-Free lacks nothing in comfort; I appreciated the quilted, soft texture. And it leaves none of that undesirable residue (I'm a mom of  3-year-old whose heiny I wipe daily, so when I say I know this firsthand, I mean it.) And while you may assume that the rolling could not possibly go as smoothly as it would with a traditional tube, I actually noticed no bumps in the unravelling process. The craziest thing is when you use up the last of a roll and IT JUST DISAPPEARS. Maybe this will motivate my husband to replace the toilet paper more often, eh? Eliminate one of the steps? A girl can dream…
It's a small change but an easy one to make. And just think what a lifetime of going tubeless with your toilet paper will mean for our environment! You, as a parent with purchasing power, have the ability to make the switch and change the trajectory of waste in your home.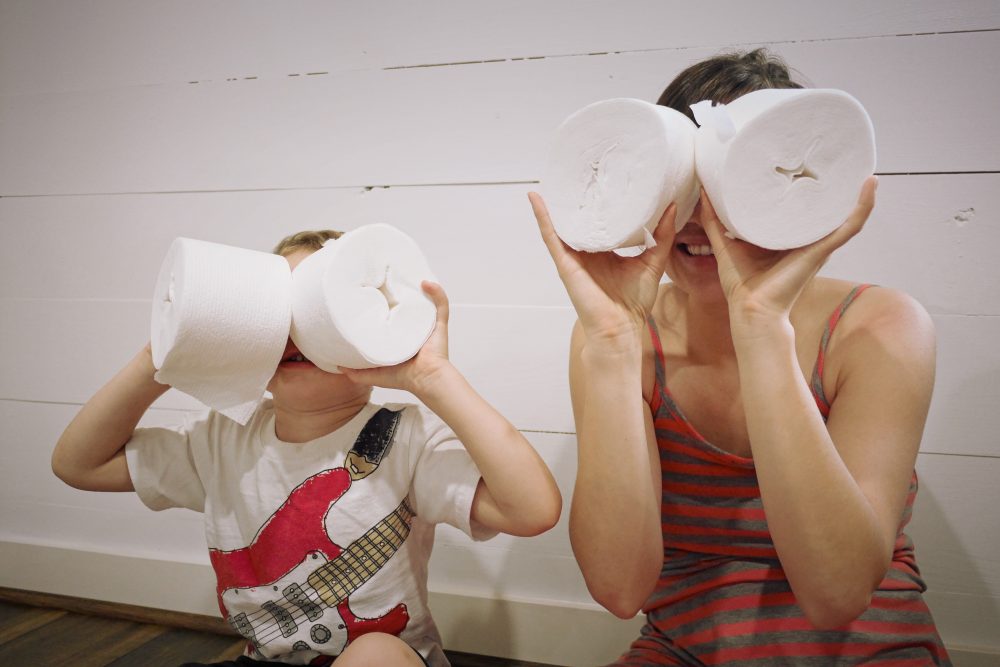 If you've been around my blog at all, you know that I'm a big proponent of multi-generational thinking. The way I love my kiddos today will have an influence on how they will love their (maybe someday) kiddos in the future. That matters, no matter how ordinary it feels some days. That's the privilege we have as adults amidst the responsibility– we get to make impressions on the wet cement found in the little souls we're raising.
So today I'm reaching a generation I haven't met yet as I scoop my sweet littles up into my arms. And I'm also reaching them by making small, environmentally-friendly choices that will leave them a better and cleaner world long after I'm gone. Thanks to Scott Tube Free Toilet Paper for giving me that choice.
Okay so let's hear it, tell me what else definitely makes you an adult?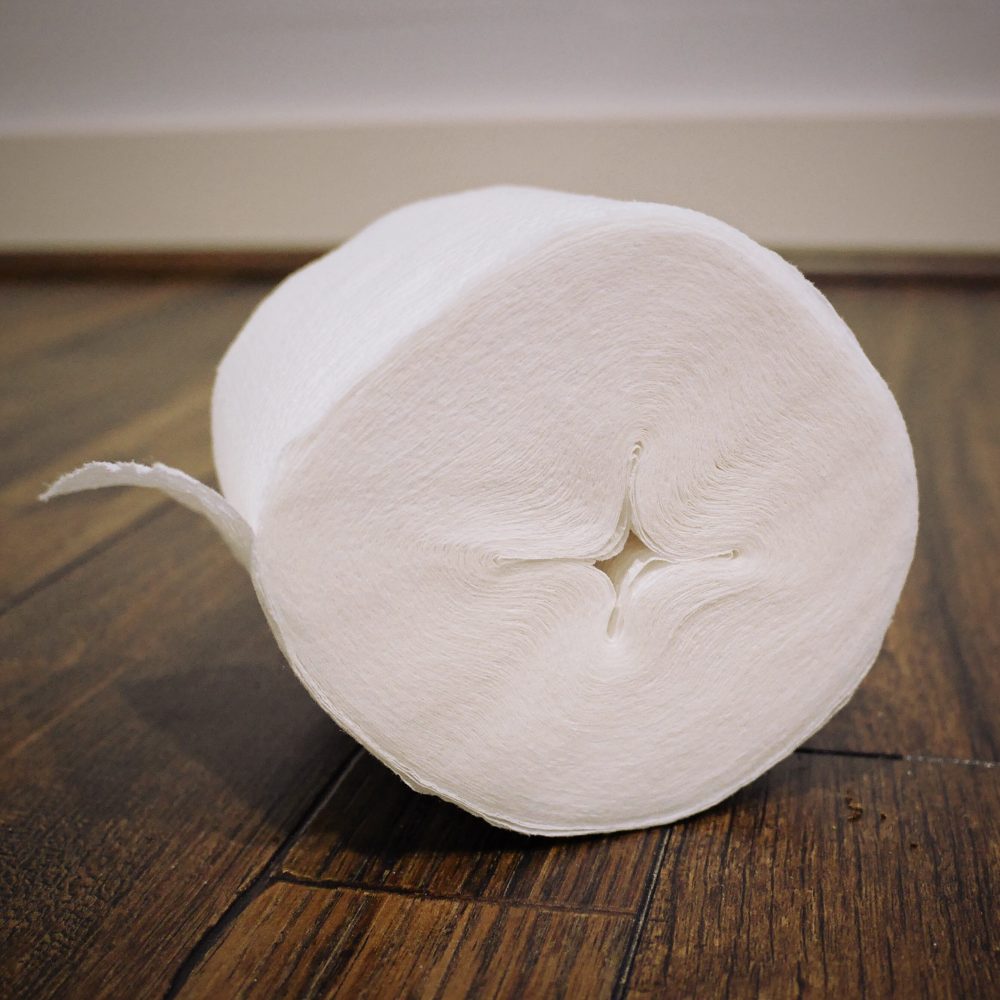 And hey, snag this Scott Tube-Free coupon before your next grocery shopping trip for some extra savings!
I think you might also enjoy this husband pranking his wife by using the average amount of cardboard tubes each person goes through in a lifetime! How many do you think that is? Check it out!
''