Okay so you got invited to a one-year-old's birthday party. And if you're checking out this post it's because you also need to bring a gift to said party. And if you're anything like I've been in the past, you're like, "Is there anything more thankless than giving a gift to someone who can't even speak yet?" I know, kind of feels like a waste of money.
But here's the thing, you were invited because you mean something to his or her parents and their life. And those parents are probably spending a small fortune to throw this party. And if not money, definitely TIME. And yeah, it's a celebration of THEIR child, but they also know that their baby will not remember this day. So that good food is more for you and that entertainment is more for the kids you're bringing. So it's a small trade off to show up with a decent gift, ya know?
So, go and wholeheartedly celebrate the fact that your friends or family members thrived through their baby's first year. Share in the joy–it's a big deal to them!
And if you get into the spirit, you'll want to bring a gift that is loved, appreciated, needed, or useful. Here are some ideas: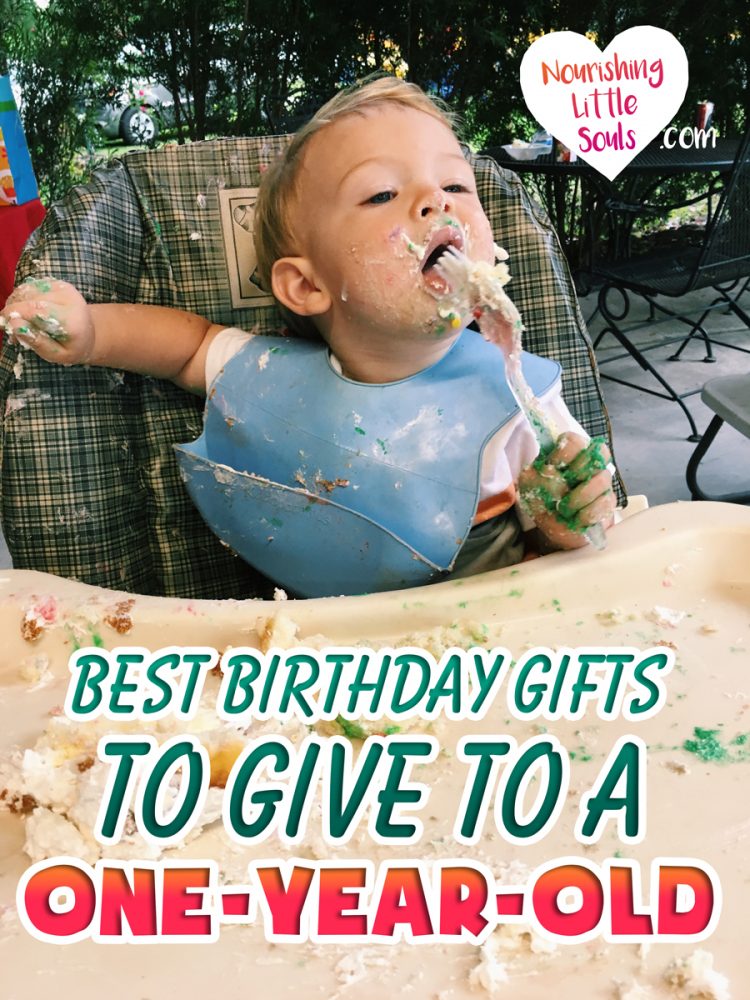 (This post contains affiliate links to products we love. It will cost you nothing extra, but instead helps support the family behind the Nourishing Little Souls blog.)
If you want the Birthday Babe to open gifts and choose yours to play with out of their whole loot, bring one of these:
A Ball
I've yet to meet a one-year-old that didn't immediately love a new ball. Any kind of ball, the nice little grippy kind, a durable playground ball, even one of those $2 balls in the giant crate where you grocery shop. Give them a ball and you'll likely steal the present show. (Balls are also easily lost, so go into it knowing that it might be the coolest thing in their life–for the three whole weeks that their parents kept track of it.)
A Baby Doll
At this age, babies are already mimicking the way they are nurtured by their parents. Boys and girls alike enjoy hugging, kissing, and pretending to care for a baby. It's kind of adorable! And you cannot underestimate how adorable the baby's parents will find that pretend nurturing (maybe enough for a sibling..?;)
Interactive book(s)
A farm animal board book that made realistic animal sounds AND had patches of real-feel fur was my little guy's favorite gift this past birthday. He did not want to put it down! Feed a love for reading and learning with books they'll love.
A play phone
Babies see their parents with phone A LOT (2016, ya know?) So they will be enthralled to have one of their own. Get one that you can record a message on for sentimentality's sake!
If you're okay with not getting immediate gratification and would just be happy to know that your gift gets lots of use and encourages play:
Washable Craft Supplies
Baby might not be totally ready to do arts and crafts at the moment, but in just a few short months, he or she will be! Finger paint, fat markers, triangle crayons, organic veggie sidewalk chalk (YES it's a thing, check it out!)–all wonderfully constructive gifts to give to a growing mind! Also, my all-time FAVORITE no-mess craft to give (and get) is this paint-with water pad (that dries and can be used over and over again!)
*BUT* if you give craft supplies that do not explicitly say "washable" on them, I will personally hunt you down and firmly smack you on the back of your head on behalf of all moms everywhere. Get washable or get lost on the way to the party.
Baby Pool
If the family does not yet have a baby pool, they will surely benefit from having one. If it's still cold during the birth month, add some balls to the gift to make it an indoor ball pit. Then, when summer rolls around, there are so many fun ways to use that baby pool, it's insane!
Crawl Tunnel
Little ones loves crawling through tiny spaces. Send them on a daily adventure with their own crawl tunnel.
Tent/Fort
They also love having a little room just for them. A toy that was completely uninteresting out in the open is suddenly ten times more intriguing inside of a tent. That's a proven statistic. ;) A fort kit is great if there is an older sibling in the mix who can enjoy the constructive part while baby enjoys the finished product.
If you really want to blow it out of the park, here are some big gifts that are just plain awesome to have and will likely last through any/several siblings to come.
4-in-1 Trike
These are so neat! It's a tricycle stroller that can grow with your child–all the way to 49 pounds! Talk about useful.
Bike Trailer
If the birthday family enjoys biking at all or might enjoy it if they had the right gear, get a bike trailer! We've made some of our favorite family memories biking together.
Basketball Hoop
I may see slightly more value in a basketball hoop due to my 3-year-old's OBSESSION with basketball, BUT any friend he's ever had over has also enjoyed throwing balls into his little hoop. So I don't think I'm too far off in saying that most children would enjoy and benefit from a hoop their size.
Activity Walker
If baby is not walking yet or is walking but falling often, these are so nice. They're the best thing ever for a short season, and many parents don't want to splurge to buy one because it's a short season which is why it does make such a nice gift.
Cozy Coupe
Such a classic. You can't go wrong. Put the floor board in so you can push el bebe without their feet getting dragged along, take it out when they figure out how to scoot themselves.
Activity Garden Playhouse
I cannot even tell you how many HOURS my two boys have logged playing in this little house. It's a good one.
And finally, gifts that aren't terribly exciting to open but will definitely be appreciated by the parents.
Memberships
These can be a tad pricey, but man, do they make a great gift for a growing family! Do you know of a museum, indoor play place, aquarium, zoo, or children's museum that the birthday baby's family goes to? Or perhaps one that they haven't discovered but isn't too far of a drive for them? Look into the membership pricing! Go in on it with another friend or two if it's out of your range. Seriously, a year of free family experiences is one of the greatest gifts you can give.
Money
If you can't think of anything for this baby, money is not a bad way to go. The first birthday (and maaaaaybe the second birthday) is the only one where this child will not yet understand money or shopping. I really appreciate building a savings for my kids with the gift money they get in their first two years. And if the parents have something they know their child wants or needs, they can put your money toward that. Not a bad way to go, so don't be ashamed if that's your route. It will still be appreciated.
This is just my opinion but I would say money trumps gift cards at this particular age. Like I said, baby doesn't understand the thrill of picking out a toy at Toys R Us just yet, so give Mom and Dad the option of adding your cash to a college fund OR picking out a toy for their child. Save the gift card for, like, the third birthday and beyond. Again, just my opinion.
This list is by no means exhaustive. There are so many wonderful gifts you can give, don't let your imagination be limited by my brain! :) I hope only to get the wheels in your head spinning with my experience giving and receiving plenty o' one-year-old gifts. If you have any ideas, I would love if you'd leave them in the comments!
And hey, maybe you'll find some of this other stuff I've written helpful and/or funny? Stick around, click around.