I am not crafty, but I am super sentimental. I treasure memories (not unlike most other moms.:) And as far as mom memories go, not much tops the beautiful, distinct memories of a birth-giving day. Those precious first hours and days with a new baby are something to be remembered forever.
After giving birth at a hospital or birthing center, they usually send you home with a little bag of keepsakes. Such as…
-The first hat baby wore
-The measuring tape they used
-The certificate of birth with the precious little footprints
-The scissors used to cut the cord
-The cord clamp
Different facilities send different things (I realized this because I've now given birth in three drastically different places and have different things from each birth.)
I've also held onto a few keepsakes and you may have too:
-My hospital bracelet
-Visitor badges
-Ultrasound photos
-The first blanket
But, I had these cute little keepsakes stored away in a document box along with birth certificates and social security cards–NOT the place for them. So WHAT do you do with those keepsakes? Asking on behalf of those of us who aren't the crafty types. And even for those who ARE crafty but you're a mom and ya just don't have time to exercise that skill so much lately.
So finally, I got the idea to make those birth keepsakes into Christmas ornaments– the SUPER easy way.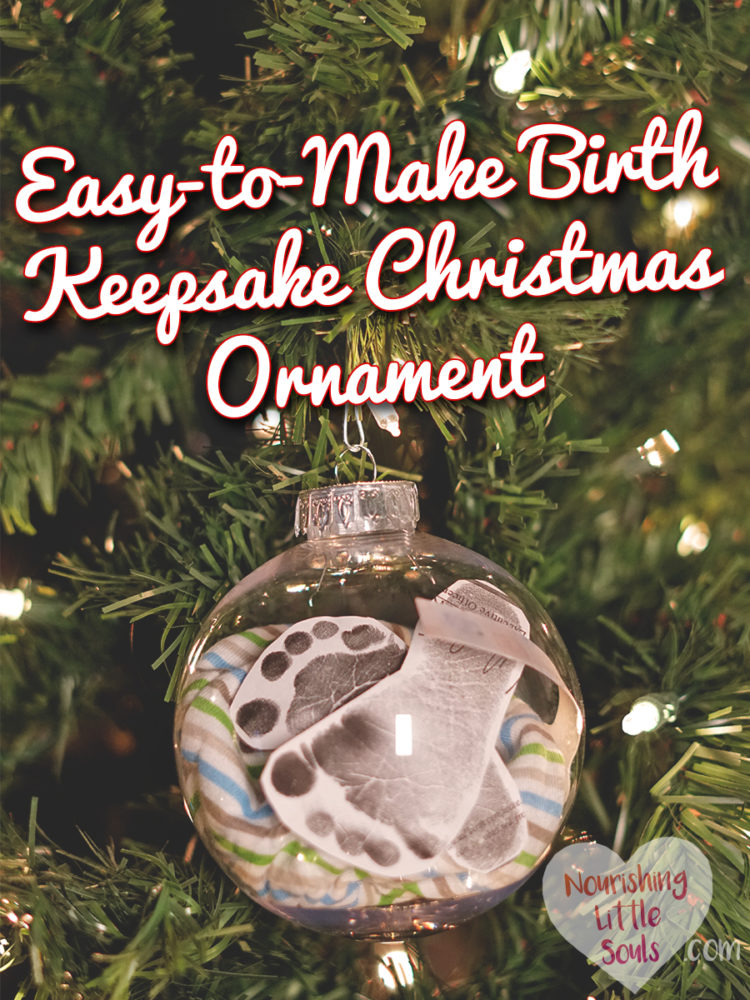 (This post contains affiliate links that cost you nothing extra to use, but instead help support the family behind this blog.)
Here's how I did it:
I bought clear plastic bulbs (feel free to go with glass if you're a careful person– I'm clumsy and I have three boys under four, so I like unbreakable stuff!) You can usually find them at craft stores, too, if Amazon isn't your thing.
And I put in all that I had for each baby's birth. Hat goes first, everything else kind of falls into place from there. I couldn't bring myself to cut out the actual footprints, so we scanned them and I cut THOSE out. They're actually my favorite part of the bulbs now!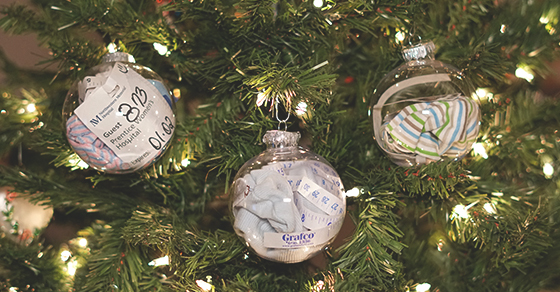 And I'm obsessed. They're my new favorite Christmas ornaments. The kids grab their ornament off of the tree, crawl into my lap and look into the little museum of their own birthday and I get to tell them the stories that I love to tell. It's the perfect way to remember those special days every year, without them becoming so familiar that there is no novelty.
So, if you have birth keepsakes tucked away somewhere, I encourage you to get them out today! Go get some clear bulbs and hang that treasure of your birth-giving memory on the tree.
If you enjoyed this post, you may also like…