Word is out, thanks to a Harvard study cited by the New York Times, that daughters of working moms will statistically achieve higher education, are more likely to work [outside of the home], and will make more money than daughters of stay-at-home moms. Three-quarters of American mothers with children at home are employed, so they're all breathing a sigh of relief with this good news.
But for the other quarter of us–OUCH, right?
I don't know if there's really anything that could shake the confidence of a stay-at-home mom more. I mean, we have a hard enough time feeling like valid human beings in a double-income, career-minded world.
We all know that the statistics are real and we all have to make life decisions with our children's best interests in mind. I know moms who go to work in response to a study like this–not because they need the income and not even because they want to work, but simply because they want to set the right example for their daughters (one of those moms commented this exact thing on one of my past blog posts.) We all have to work this out in our hearts and then live with the benefits and consequences that come along with ANY life choice. It'll look different for every family, and we're all just doing the best we can–so don't hear me condemning you, working moms. You keep doing what is best for your family, girlfriend.
But these words here are specifically for the SAHMs out there who are wondering if their choice to stay at home is actually hurting their daughters.
Because that's what I felt. Here I am, a stay-at-home mom, daughter of a stay-at-home mom, and I read an article like that and think, "uh oh, is my choice to stay at home going to make my [maybe someday] daughters into high school dropouts who aspire for nothing more than childbearing?"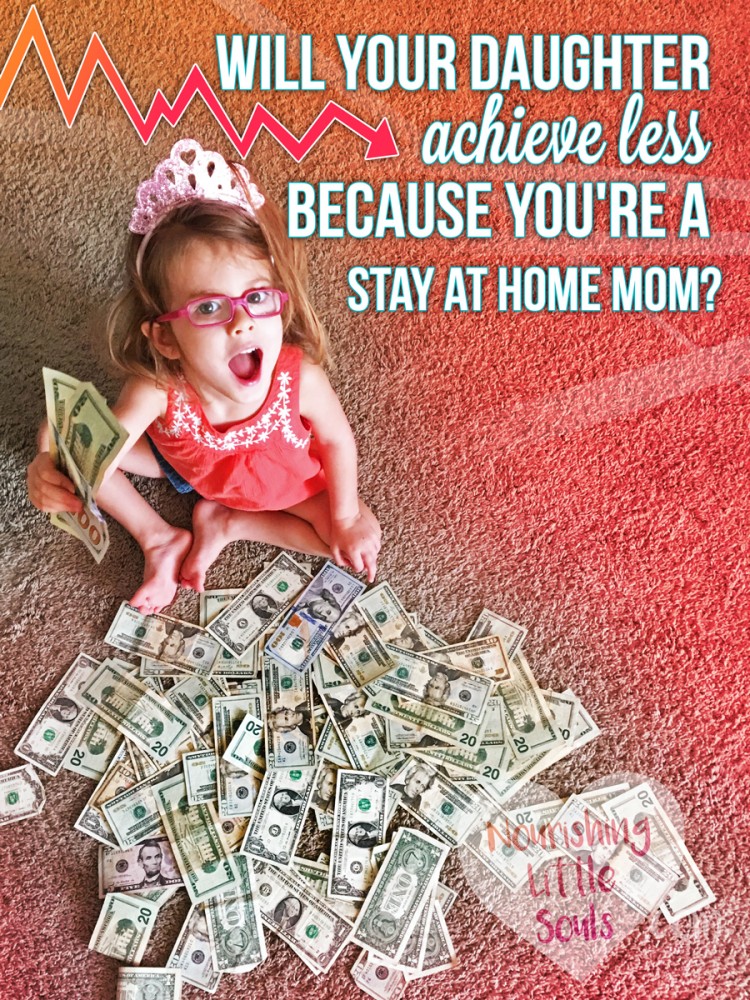 Or at least I thought that for a minute. Maybe you have too? Maybe it made you second guess your life choice or simply feel like you're doing your daughters an injustice? Maybe we're a shame to the female species altogether?
No. Just no.
When I think about it a little more critically, I'm okay with those statistics. Yes, the world sees those stats and says "failure," but I hope to raise daughters who won't use the world's yardstick to measure their worth.
Because the composite to those stats would logically be that daughters of stay-at-home moms are more likely to also be stay-at-home moms. I'm okay with raising daughters who are more likely to see the eternal value of working inside of the home. I'm okay with raising daughters who see just how much work stay-at-home moms do and still say yes, I will do that important work too. I want daughters who view the great sacrifice of staying at home–how we moms give our best years to personally,  actively care for our children through all of the hours of the day (and night), regardless of the income we won't have or the worldly validation we won't get.
After all, that's the greatest compliment, isn't it? Having a daughter who believes what you did mattered–that it was a worthwhile way to spend a few decades of your life–and shows that with her own life.
The world will say that daughter achieved less, but I say she achieved so very much more. She saw the vision that I once saw as a young mom, and she's living it out with strength and dignity in a world that doesn't make it easy.
And I know it may not happen just like that. Statistics and composites of those statistics do not define families or life paths at all. I could raise an independent surgeon or a working-mom-veterinarian or a stay-at-home mom–I'd love them all the same. I'll raise my daughters to know that they can achieve anything they darn well please. Any level of education, career, or income–I'll be her biggest cheerleader as she goes for it. But I hope that no matter what she achieves on this side of Heaven, she knows that her worth is found in her soul and the high price that was paid for it. That would be the real success from all of my hours spent nourishing little souls. I'll keep striving for it; I hope you will too.
Be encouraged, sister.