Here's the scene:
We walk into Dairy Queen for the after-doctor's-visit-ice cream I promised my boys. The line was six people deep from the register, and given that this location only opened a few weeks ago, I didn't expect it to go quickly. I might've chosen a less lunch-heavy place for a treat but all of the speciality ice cream shops were still closed for another half an hour. So, we committed for the wait.
My four-year-old stood with me for a moment, but after a whole morning of waiting rooms and sitting still, I didn't blame him for wanting to venture into the dining area. He chose a booth where I could see him and sat there playing some kind of pretend game with the salt and pepper shakers. Then, my toddler did that stiff-back, dead weight wiggle out of my arms so he could go and join his brother. This was not my top choice of arrangement, but there also wasn't much harm so I just went with it.
Then the nice man behind me opened the door for two elderly ladies just entering the restaurant. He gave them his place in line and I smiled at them, wondering for a moment if I should give them my place too, but deciding ultimately that I needed to get through the line to get back to my kids.
"Look at those kids over there," one of the ladies said to the other. "Whose kids are those?" She looked around expecting an answer.
"They're mine," I said, smiling.
"Well, look at them."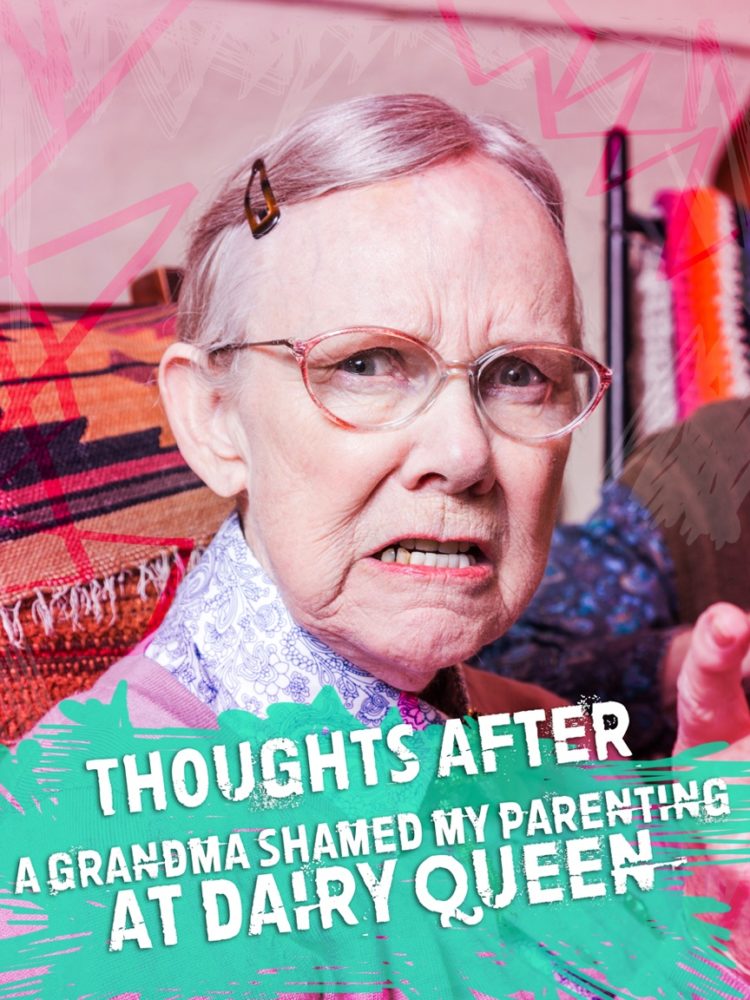 I was looking at them. I hadn't stopped looking at them. I thought for a minute that she might be pointing out how nicely they were sitting together just the two of them, but that was wishful thinking. "I see them," I responded.
"They are playing with salt and pepper shakers. They should not be playing with those."
"I think they'll be okay." But if things did get out of hand with the salt and pepper, obviously I would have intervened–hence the watching.
"One of them could get pepper in his face!" she raised her eyebrows at me.
Realizing that it was either go to the back of this growing line to retrieve my children from a situation that I did not find to be harmful in the first place, or just wait a little longer to finish the task I set out to do, I replied, "They're fine, ma'am, thank you."
But she couldn't let it rest, "Well that's just really not right." Her eyes darted between my boys, me, and my pregnant belly.
I could feel that burning offense rising in my Mama Bear body and this was my final word to her, for better or for worse: "Ma'am, we've had a long morning already. Those boys right there have had to wait at the doctor's office for nearly two hours and they both got shots. I promised them ice cream, and that's why we're here. I really don't need your judgement today. But thank you."
She stepped back and mumbled to her friend, "I guess I'm just a strict Grandma."
Without having any idea what was going on, my boys walked over to me and waited patiently with me until we ordered. I was thankful I didn't need to be turned in that lady's direction any longer.
It has now been four hours since the Dairy Queen debacle went down,
and I'm still thinking about it (which means, for my own sake, I had better just blog about it ;).
This wasn't my proudest moment as a parent by any means; I don't stand before you claiming to be blameless. I suppose to that lady and maybe even to many of you, I made a poor choice by letting my young kids sit at that booth. The truth is,
my parenting is full of faults, and I am always in need of grace.
-But-
I do love my kids fiercely, and I am 100% certain that I love them more than that lady does. This leads me to conclude that I want what's best for them even more than she does.
And I'd be willing to bet that this is just about always the case when you spot a parent making a poor choice (by your estimation) with their kid in a public setting:
That parent cares more about their own child than you do.
You're just not seeing their brightest moment. We don't usually have our brightest moments in public places, let me just say that.
But I realize that some well-meaning people will still want to speak up if they see something wrong, especially in the interest of a child. I get that. So if you do feel compelled to call someone's parenting into question, ask yourself a few things first:
1.) Are the children in danger?
If they're in immediate danger, by all means, step in and rescue them!
2.) Are the children endangering anyone or anything else?
Again, intervene if it has come to it.
3.) Does the parent seem physically able to care for their children?
(Real question, dad could be having seizure somewhere for all we know.)
–and then, before passing a negative comment, ask this–
4.) If, by your estimation, the children are not being adequately cared for,
is it possible for you to lend a helping hand?
Had this lady offered to hold my place in line so that I could go and sit with or retrieve my children, there could have been a whole different spin on my day today. Had she offered to go and sit with them while I ordered, I may have been a little creeped out, but again, an offer to help would have been more welcomed than her series of offensive comments.
5.) Could you offer an encouraging word, instead?
When you see a parent in public, you do not know their context. But there is always a context. I would be willing to bet that 95% of the time, the hot mess mom with the handful of kids you see at the grocery store? She's having a harder day than any sane adult shopping alone. Getting young children out of the house solo is no small task. And no matter what kind of day she's having, words can either lift her or crush her.
Why crush when you can lift?
Moms filled with encouragement will be even better moms to those kids you're concerned about. Moms who are shamed by your words? They'll feel defensive, hurt, and probably inadequate. And those moms will have very little left to pour into those kids you seem to care about.
I'll probably never forget the ugly feeling that elderly lady gave me today at Dairy Queen. I'll think about her judgmental glares the next time I dare to venture into public with my children without my husband, but I'll probably stay home for the next few days to avoid it. Maybe she truly meant well, maybe she was just so completely out of touch with caring for small children that she couldn't relate to the position I was in. Maybe her generation of parents would have never tolerated my laid back display of parenting at that moment. Maybe her generation was more okay with calling each other out. (I'm really thankful that our generation of parents leans so much more toward solidarity and encouragement.)
She obviously couldn't see the way her words crushed me, and that's the point here, friends.
It is literally never helpful to shame a parent. 
If you cannot lend a helping hand or say an encouraging word or even give so little as a reassuring smile that tells a mom she's doing okay, then it might be best to keep your judgmental thoughts to yourself.
If you have a relationship with a parent and are genuinely concerned about how they parent, then that is a matter to be taken up privately and compassionately.
But bear in mind that we as parents are all a little insecure whether we show it or not, we're all even more tired than we look, and we're all just doing all we can to keep it together most of the time–but we do love our kids and want what's best for them. We do. So trust that.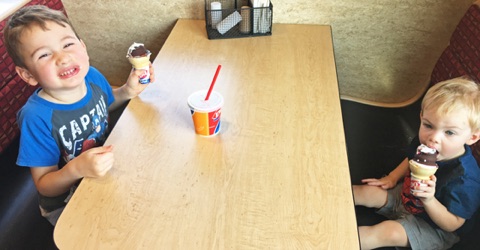 Hey, thanks for stopping by! If you enjoyed this post, here are a few more I think you might like: