There are days when staying at home can feel like they last forever. Maybe you and your toddler are getting bored with your normal activities. You see the crafts on Pinterest, they look like fun but let's be honest, they look like a lot of work. Not only do they look like a lot of work, but they are MESSY! Don't get me wrong, messy crafts can be a lot of fun but there are days when a mess-free craft sounds glorious.
Crafts are a great way for toddlers to explore and learn new skills. They work their tiny muscles in their fingers by holding paint brushes. They are able to feel new textures on their fingers. They also may feel a bit proud after seeing their work. Doing crafts can also be a great way to bond with your toddler.
So, what if I told you I had two mess-free crafts for you and your toddler to try? I hope you will attempt these crafts and play around with them. Try them with an open mind and an open heart. I think you'll be surprised by how much fun you and your toddler will have together!
Craft #1: Painting in a Bag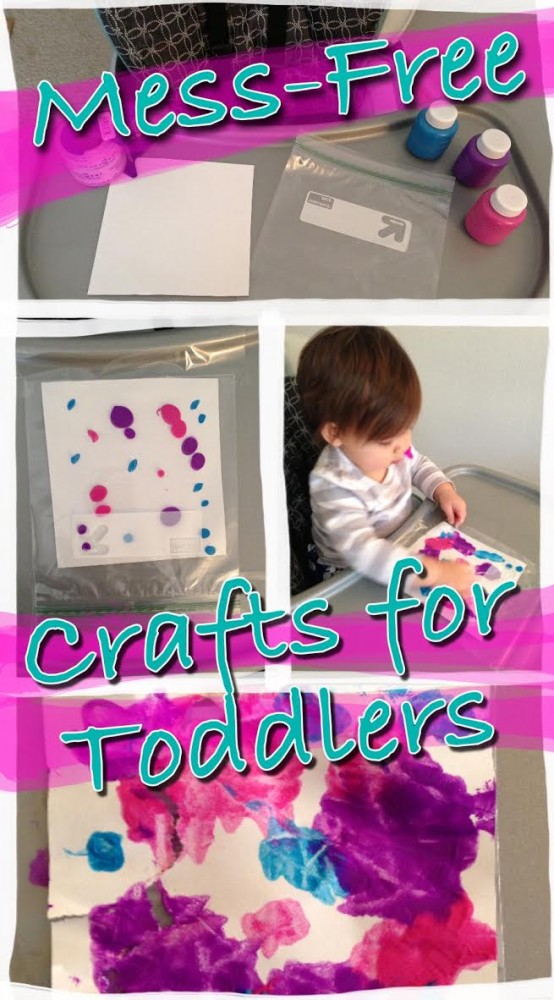 (This post contains affiliate links.)
What you'll need:
White Paper
A Ziplock Bag
Paint (we love this kind!)
Tape
What to do:
Make sure your paper fits into the ziplock bag, I needed to trim my paper to make it fit. Once you know your paper fits, put some paint blobs onto your paper (don't be shy with the paint). Next put the paper with the paint on it into your ziplock bag. Seal the bag and make sure there is no air in it. Now, tape the bag down onto your toddler's highchair. Your setup is finished, go ahead and let your toddler press down on the bag. You may need to demonstrate for your toddler. Rub the bag so that the paint begins to smear and mix together. Most importantly, have fun! Talk about the colors and how they are changing. This is a great way for toddler's to develop words and learn about colors.
Craft #2: Painting with water
What you will need:
Colored construction paper (stock up on the good stuff here)
A paint brush
A cup of water
What to do:
Place the paper on your toddler's high chair. Next, dip the paint brush into the water. You may need to demonstrate to your toddler how to "paint" on the paper. Once you've demonstrated let your toddler have a turn. When I did this craft with my daughter, we both painted together. I would also praise her for the little strokes she did on the paper. I feel that the praise encouraged her to keep painting.
Don't be discouraged if your toddler gets bored after a few minutes, or even one minute. You are introducing something new and they may not sit for very long, that's okay! Make sure that your toddler is having fun, this isn't a homework assignment.
I hope you and your toddler have fun exploring these mess-free crafts! We certainly did! And we would love to hear about your experience in the comments. Do you have any crafts that nurture your toddler's creativity but keep the mess at bay? Please share!
Stick around and stay awhile! If you enjoyed this post, I think you might also like: